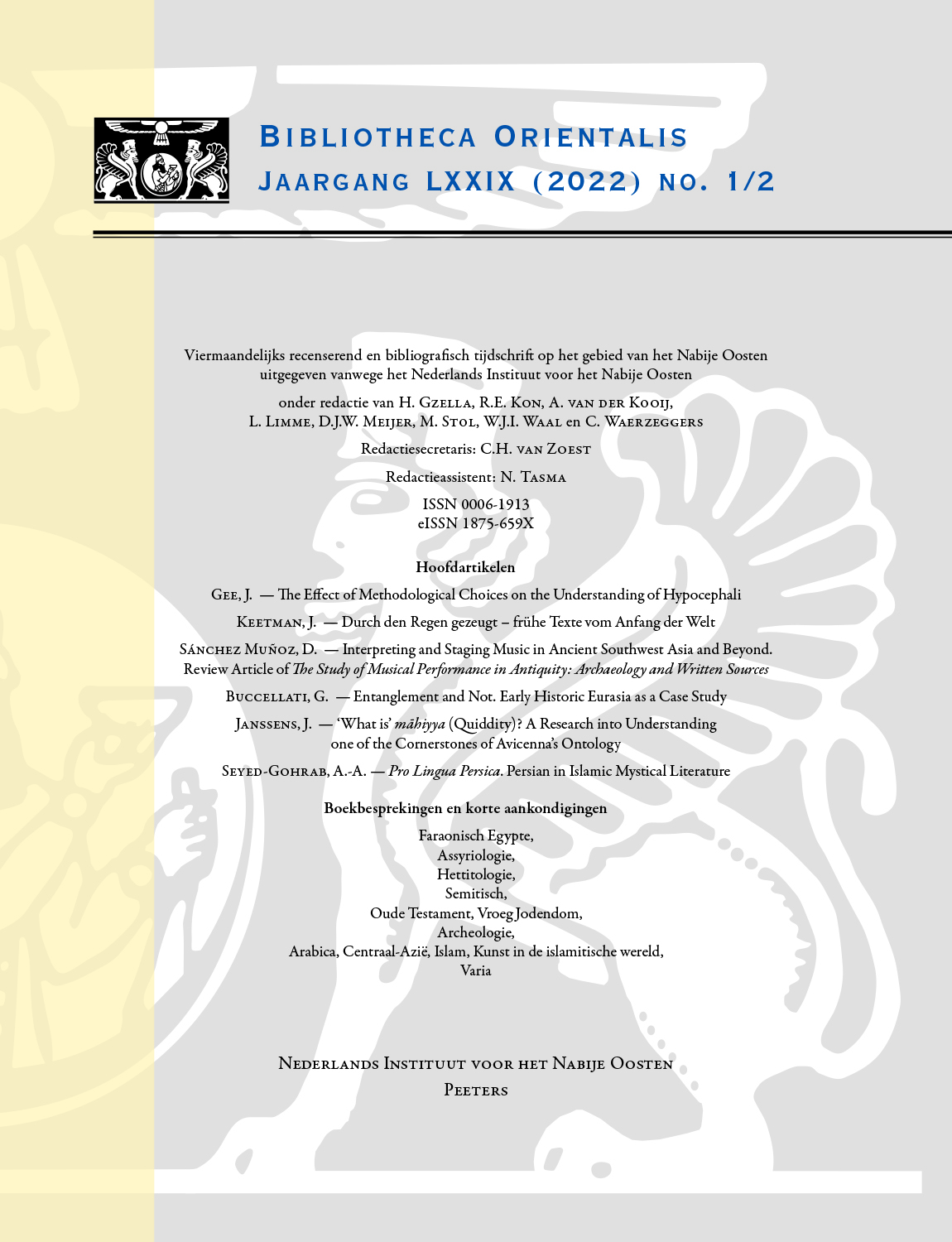 Document Details :

Title: Midden-Oosten
Author(s):
Journal: Bibliotheca Orientalis
Volume: 72 Issue: 1-2 Date: 2015
Pages: 241-263
DOI: 10.2143/BIOR.72.1.3085187

Abstract :
TILLIER, M., BIANQUIS, T. (préface) - Vies des cadis de Miṣr 237/851-366/976. Extrait du Raf' al-iṣr 'an quḍāt Miṣr d'Ibn Ḥağar al-'Asqalānī. (Cahiers des Annales islamologiques 24). Institut Français d'Archéologie Orientale du Caire, Cairo, 2002.

SNELDERS, B. - Identity and Christian-Muslim Interaction: Medieval Art of the Syrian Orthodox from the Mosul Area. (Orientalia Lovaniensia Analecta 198). Peeters, Leuven, 2010.

AIGLE, D., PÉQUIGNOT, S. (eds.) - La correspondence entre souverains, princes et cités-états. Approches croisées entre l'Orient musulman, l'Occident latin et Byzance (XIIIe-début XVIe siècle). (Miroir de l'Orient Musulman 2). Brepols, Turnhout, 2013.

GUTH, S. - Die Hauptsprachen der Islamischen Welt. Strukturen, Geschichte, Literaturen. (Porta Linguarum Orientalium N.S. 25). Verlag Otto Harrassowitz, Wiesbaden, 2012.

KLEINITZ, C., NÄSER, C. (eds.) - 'Nihna nnâs al-bahar - We are the People of the River'. Ethnographic Research in the Fourth Nile Cataract Region, Sudan. (Meroitica 26). Verlag Otto Harrassowitz, Wiesbaden, 2012.

MARZOLPH, U. (Hrsg.) - Orientalistische Studien zu Sprache und Literatur. Festgabe zum 65. Geburtstag von Werner Diem. Verlag Otto Harrassowitz, Wiesbaden, 2011.


Download article