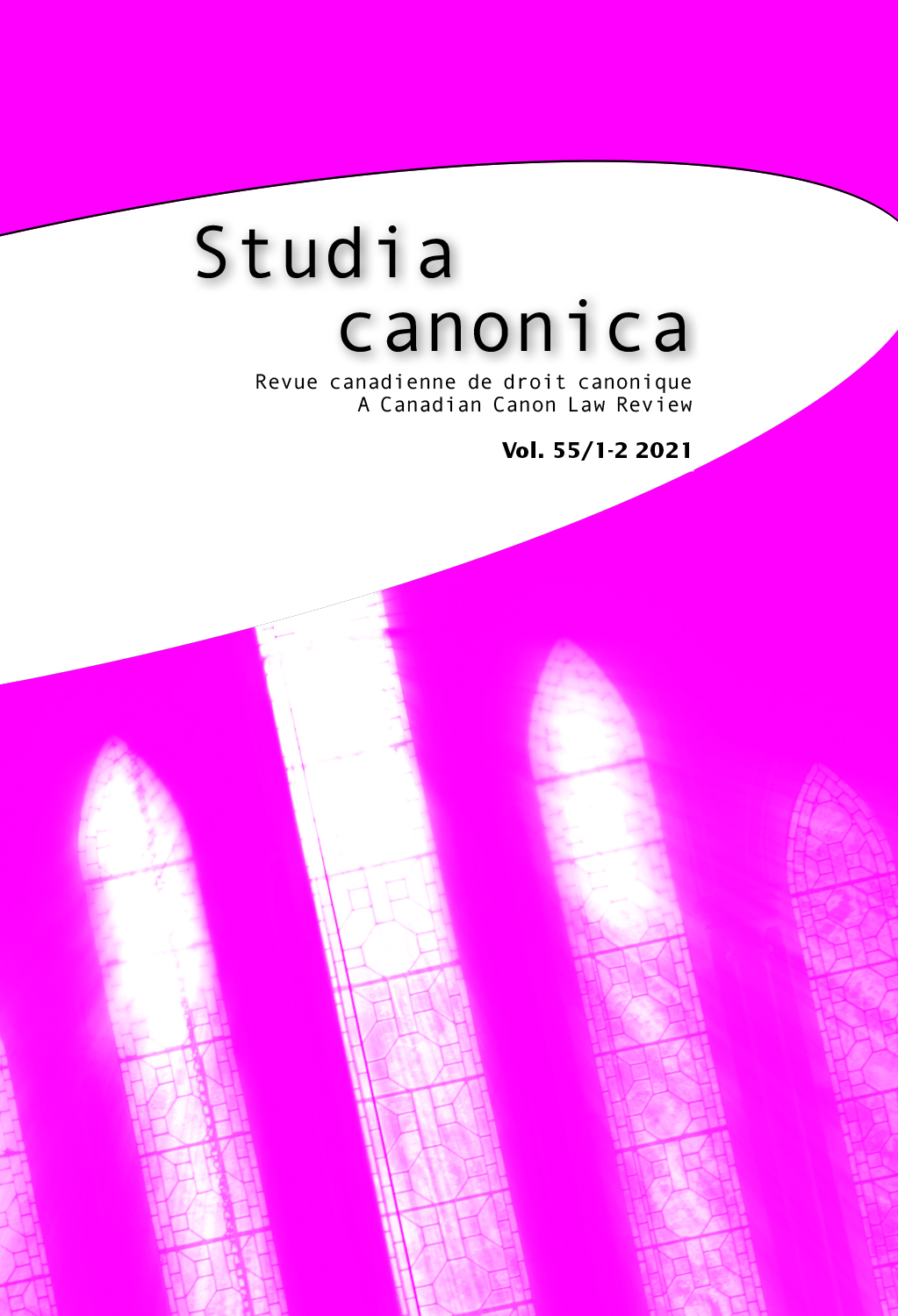 Document Details :

Title: Canon Law Historical Background of Categories of the Canonical Singular Administrative Acts
Author(s): SZUROMI, Szabolcs Anzelm
Journal: Studia Canonica
Volume: 49 Issue: 1-2 Date: 2015
Pages: 643-660
DOI: 10.2143/STC.49.1.3082862

Abstract :
A singular administrative act is a decision bound to ecclesiastical executive power, which creates a right regarding certain individuals. Although according to the law in effect in itself it is not a legal norm; but at first in the matured medieval canon law it was considered as such, later, however, in the footsteps of accurate distinctions made by jurisprudence, it was judged not to be regarded as a legal norm. Singular decision is, right because of its administrative character, not to be mixed up with the decision made in a judicial process — be it contentious or penal —, in spite of the fact, that in many cases the competent ecclesiastical authority's decision to make an administrative act is in order to avoid trial or to safeguard the reputation of the Church. Singular decree, that is decretum singulare (and its most characteristic kind the singular precept: preceptum singulare), rescript (rescriptum), privilege (privilegium), dispensation (dispensatio), and other acts not forming a separate group, issued by the competent ecclesiastical authority and inserted into the law in effect, had been known also in the earlier law. The singular administrative acts in the Latin canon law in effect, have an old tradition — generally going back to Roman Law —, and the canonical norms relating to them have broadened continuously, especially due to the ecclesiastical legislation of the matured middle ages, and sequentially in the modern age too.


---

Un acte administratif singulier est une décision liée au pouvoir exécutif ecclésiastique et qui crée un droit relatif à certaines personnes. Bien qu'il soit conforme au droit en vigueur, l'acte administratif singulier ne constitue pas une norme juridique. Il est vrai que, dans le droit canonique du Moyen-Âge tardif, les actes en question étaient considérés comme tels. Par la suite, cependant, et en conséquence de la formulation de distinctions précises par la jurisprudence, on a fini par décider que cet acte ne pouvait être regardé comme une norme juridique. Une décision singulière, en vertu même de son caractère administratif, ne doit pas être confondue avec la décision rendue dans un processus judiciaire — contentieux ou pénal. Il en est ainsi en dépit du fait que, dans bien des cas, la décision de l'autorité ecclésiastique compétente de poser un acte administratif vise à éviter un procès ou à préserver la réputation de l'Église. Le décret singulier, soit le decretum singulare (et son espèce la plus caractéristique, le précepte singulier, ou preceptum singulare), le rescrit (rescriptum), le privilège (privilegium), la dispense (dispensatio), sans former un groupe d'actes séparés, émanent tous de l'autorité ecclésiastique compétente et trouvent leur lieu d'insertion dans le droit. En fait le droit ancien les connaissait déjà. Dans le droit canonique latin, la tradition des actes administratifs singuliers a connu une longue histoire qui, pour l'essentiel, remonte au droit romain. La portée des normes canoniques qui s'y rapportent n'a cessé de s'élargir, notamment depuis la fin du Moyen-Âge et de ce qui s'est produit par la suite, dans les temps modernes.


Download article