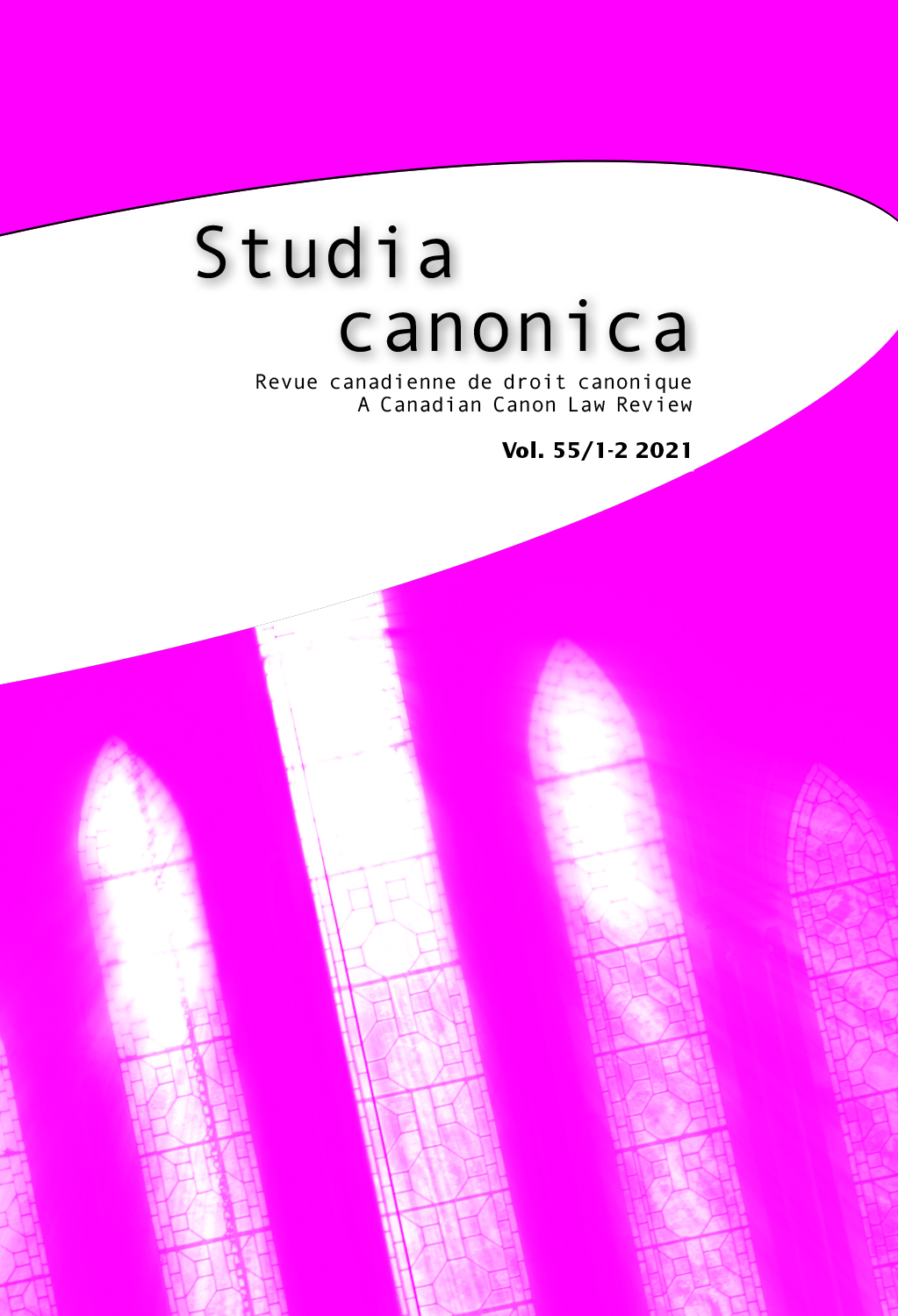 Document Details :

Title: The Non-Admission of the Divorced and Remarried Persons to Holy Communion
Subtitle: Canon 915 Revisited
Author(s): KOWAL, Wojciech
Journal: Studia Canonica
Volume: 49 Issue: 1-2 Date: 2015
Pages: 411-441
DOI: 10.2143/STC.49.1.3082853

Abstract :
The article deals with the question of the interpretation of CIC c. 915 in the context of non-admission of divorced and remarried persons to Holy Communion. The author refers to matters related to the understanding and interpretation of the current legislation, without touching on the issue of the indissolubility of marriage and the notion of marriage bond. Given the complexity of the subject matter, the considerations are limited to recent writings published in the canonical milieu of North America. On the basis of a detailed analysis of the process of the revision of c. 855 of the 1917 Code of Canon Law, corresponding to CIC c. 915, the proper meaning of the term 'manifest grave sin' is studied and its canonical consequences explained. Some practical applications in the pastoral life are offered as well. The author hopes that his canonical reflection will help in a better understanding of the logic of the proposed solutions and their critical evaluation, and thus contribute to the debate before the ordinary assembly of the Synod of Bishops on the Family (October 2015).


---

L'article traite de la question de l'interprétation du CIC c. 915 dans le contexte de non-admission des fidèles divorcés et remariés à la communion. L'approche choisie correspond à l'attente d'un canoniste, chargé de l'interprétation des lois ecclésiastiques et des applications pratiques de la doctrine canonique et de la législation dans la pastorale. L'auteur se réfère à certaines propositions récentes concernant la possibilité d'admission des fidèles divorcés et remariés à la communion sur la base d'interprétation de la législation actuelle, sans toucher la question de l'indissolubilité du mariage et la notion du lien matrimonial. Compte tenu de la complexité du sujet, l'auteur limite toutefois ses considérations surtout au milieu canonico-théologique d'Amérique du Nord. Sur la base d'une analyse lexicale du processus de la révision du canon équivalent dans le Code de droit canonique de 1917 (c. 855), le sens propre de l'expression «péché grave et manifeste» est étudié et ses conséquences canoniques évaluées. Les conclusions montrent les enjeux de la présente discipline ecclésiastique concernant l'admission à la communion et offrent quelques applications pratiques à la pastorale. L'auteur espère que la réflexion proprement canonique contribuera à une meilleure compréhension de la logique des solutions proposées et de leur évaluation critique, favorisant ainsi un débat plus fructueux sur la question des divorcés remariés et de leur participation à la vie sacramentelle de l'Église, en vue de la prochaine Assemblée ordinaire du Synode des évêques sur la famille (octobre 2015).


Download article