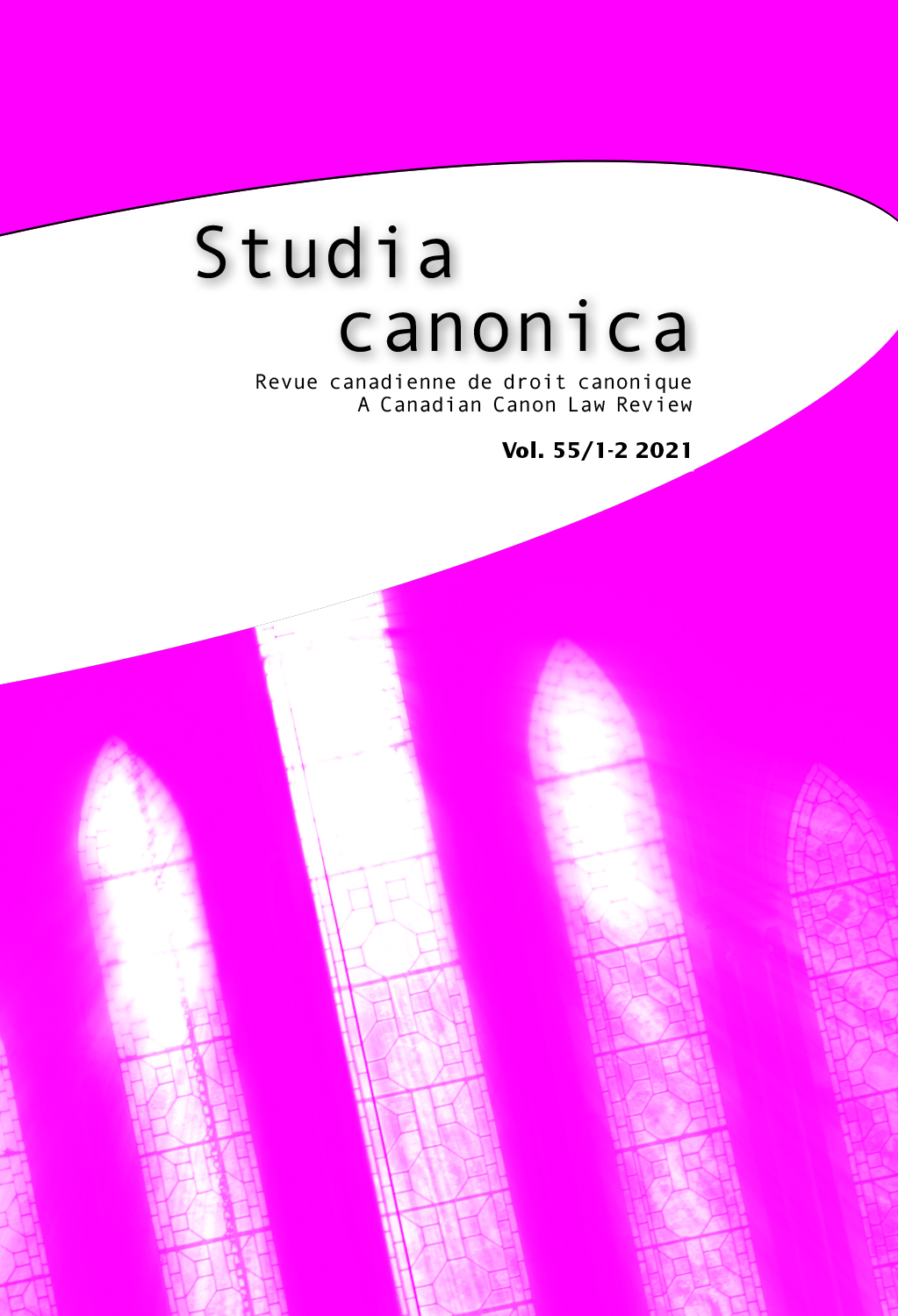 Document Details :

Title: Abus sexuel des enfants: péché ou pathologie?
Subtitle: Une réflexion interdisciplinaire sur la question
Author(s): DEMASURE, Karlijn , MAISHA, Buuma M.
Journal: Studia Canonica
Volume: 49 Issue: 1-2 Date: 2015
Pages: 139-160
DOI: 10.2143/STC.49.1.3082842

Abstract :
Depuis plusieurs décennies, des chercheurs à l'intérieur et à l'extérieur de l'Église catholique romaine se penchent sur la question d'abus sexuels des enfants. Pour certains, les agresseurs souffrent d'une pathologie; pour d'autres, il s'agit seulement d'un péché. Ces deux positions font appel à différentes stratégies. En cas de pathologie, l'agresseur doit être soumis à un traitement clinique ou médical dans le but d'améliorer sa santé mentale et le rendre à nouveau habile à prendre des décisions conscientes et libres. En cas de péché, l'octroi du pardon à l'agresseur suffit. Le présent article réfléchit sur ces deux perceptions de l'abus sexuel d'un enfant: s'agit-il d'un péché ou d'une pathologie? À partir d'une approche multidisciplinaire, nous analysons et argumentons chacune des deux positions. Ceci nous mène à une conclusion à deux volets. 1) L'abus sexuel est une violence qui impose de la souffrance à autrui et à Dieu; il s'agit d'un péché s'il y a capacité de liberté et de volonté. 2) Dans les cas où la personne qui abuse souffre des conditions mentales et affectives, notamment des troubles paraphiliques telle que la pédophilie, sa capacité à émettre un choix conscient et libre est affectée mais non pas exclue. Ceci nous amène à la conclusion qui propose une approche intégrative traitant de l'abus sexuel aussi bien comme un péché qu'une pathologie.


---

For decades, researchers inside and outside the Catholic Church have addressed the issue of sexual abuse of children. For some, perpetrators suffer from a pathology; for others, they have committed a sin. The two perceptions call for different strategies in dealing with the abuse issue. In case of pathology, abusers must be subjected to a clinical or medical treatment in order to restore their mental health and make them capable again of making conscious and free decisions. In case of sin, granting absolution after confession would be sufficient. Based on a multidisciplinary approach, we analyze and discuss both positions. This leads us to a twofold conclusion: 1) Sexual abuse is basically a violent act which imposes suffering to others and to God; therefore it is a sin if free will is the matter. 2) When abusers suffer from mental and emotional conditions, including paraphilic disorders such as pedophilia, their ability to emit a conscious and free choice is affected but not excluded. We therefore suggest that dealing with sexual abuse needs an integrative approach which includes both sin and pathology.


Download article