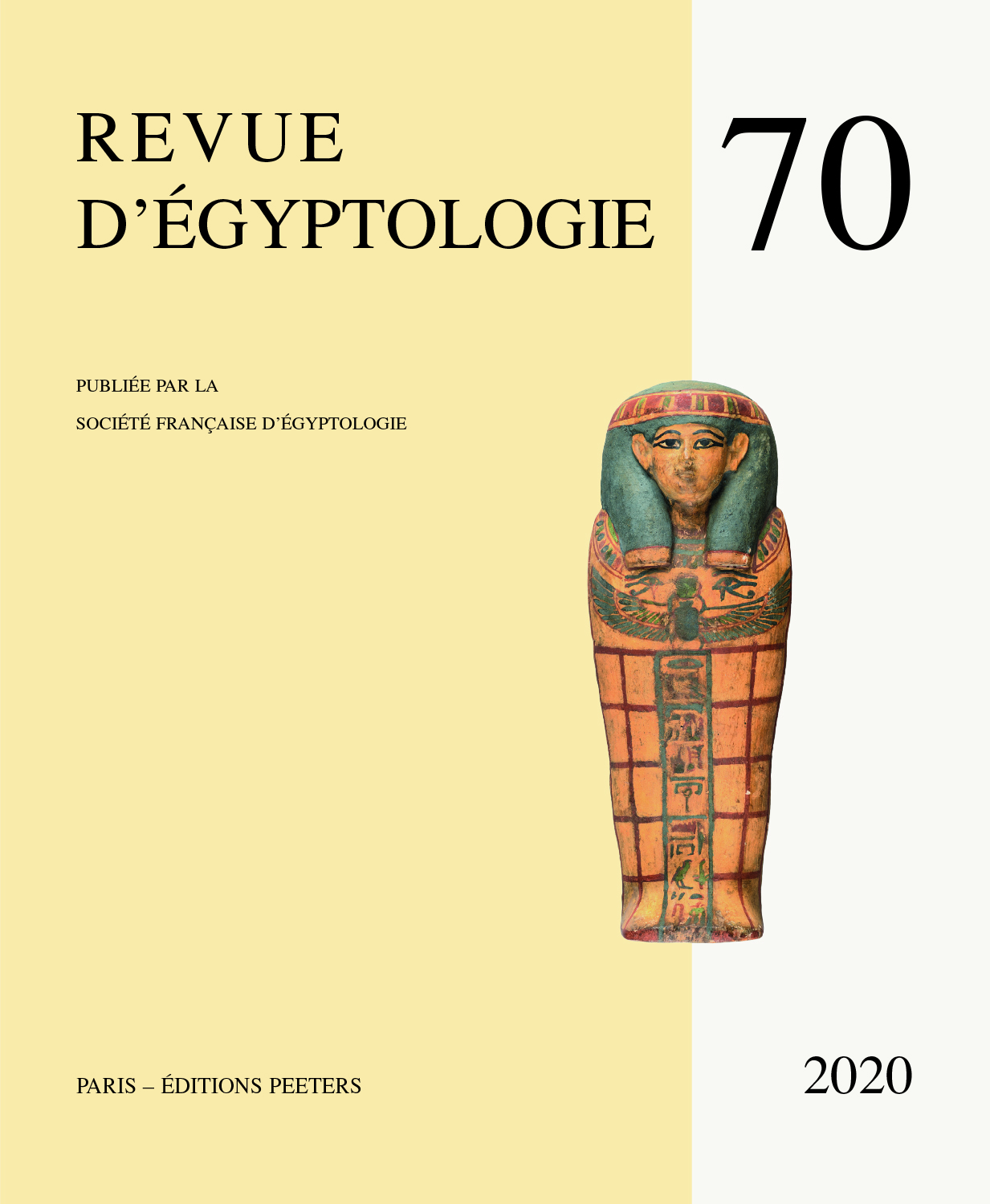 Document Details :

Title: Une stèle d'Apis trouvée dans le monastère de Saint-Jérémie à Saqqarah (Caire JE 40043)
Author(s): EL-ENANY, Khaled
Journal: Revue d'Égyptologie
Volume: 65 Date: 2014
Pages: 185-191
DOI: 10.2143/RE.65.0.3066741

Abstract :
Publication d'une stèle dédiée à Apis, découverte par J.E. Quibell en 1908 dans le monastère de Saint-Jérémie à Saqqarah, et conservée actuellement au musée égyptien du Caire (JE 40043). Le tableau supérieur montre le dédicant agenouillé, levant les bras devant le taureau Apis. La partie inférieure est occupée par un texte composé de six colonnes de hiéroglyphes, malheureusement en mauvais état et lacunaire. Les cinq premières colonnes sont classiques puisqu'elles conservent jm3ḫw ḫr Ḥp suivi de titres et de noms propres. La dernière colonne est une formule inhabituelle pour ce genre de stèle, dans laquelle le dédicant assure ne pas avoir accompli le mal et souhaite que l'on se souvienne de son nom. Comme le laissent entendre plusieurs indices, le dédicant de la stèle a exercé ses charges sacerdotales dans le Delta occidental, très probablement durant l'époque «saïto-perse».


---

Publication of a stela dedicated to Apis, discovered by J.E. Quibell in the Monastery of Saint Jeremiah at Saqqara in 1908, and is now kept at the Egyptian Museum in Cairo (JE 40043). The upper part of the stela shows the owner kneeling with his arms raised in adoration before the Apis bull. The lower part consists of six columns of hieroglyphic text, which is unfortunately in a poor state of preservation and partly missing. The first five columns are common stating jm3ḫw ḫr Ḥp followed by titles and proper names. The last column, however, is an unusual formula for this type of stela, in which the dedicator is assuring that he did not commit the evil and wishing his name to be remembered. The dedicator of the stela exercised his priestly responsibilities in Western Delta, as it can be shown by several indications, most probably during the «Saïte-Persian» period.


Download article