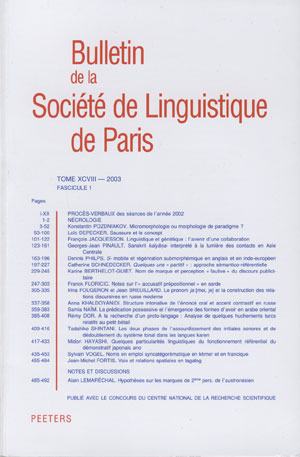 Document Details :

Title: Les langues romanes sont-elles des langues commes les autres?
Subtitle: Ce qu'en pense de DÉRom. Avec un excursus sur la notion de déclinaison étymologique
Author(s): BUCHI, Éva
Journal: Bulletin de la Société de Linguistique de Paris
Volume: 109 Issue: 1 Date: 2014
Pages: 257-275
DOI: 10.2143/BSL.109.1.3064311

Abstract :
L'étymologie romane considère en général qu'en raison de l'abondance des témoignages écrits du latin, réputé être l'ancêtre commun des idiomes romans, les étymons du lexique héréditaire n'ont pas besoin d'être reconstruits à travers les opérations très contraintes de la reconstruction comparative, mais peuvent être prélevés dans les dictionnaires latins: les langues romanes ne seraient donc pas des langues comme les autres. Le présent article s'interroge sur le bienfondé de ce particularisme flagrant de la linguistique romane à travers les résultats de recherche du projet DÉRom (Dictionnaire Étymologique Roman).


---

Romance etymologists generally consider that due to the abundance of written evidence from Latin, which is believed to be the common ancestor of the Romance varieties, the etyma of the inherited lexicon do not have to be reconstructed through rigorous comparative reconstruction, but may be found in Latin dictionaries. According to this analysis, then, the Romance languages would not follow the same rules as other languages. The present paper uses the research results of the DÉRom (Dictionnaire Étymologique Roman) project to question the validity of this implied idiosyncrasy of Romance linguistics.


---

La etimoloxía románica sopelexa de mou xeneral que, por cuenta la bayura de los testimonios escritos del llatín, camentáu como l'antepasáu común de les llingües romances, los étimos del léxicu heriede nun tienen por qué reconstruyise al traviés de les operaciones perforzaes de la reconstrucción comparativa, yá que puen remanase nos diccionarios llatinos: les llingües romances nun sedríen, poro, unes llingües como les otres. Esti trabayu entrúgase sobre la sofitancia d'esti particularismu rescamplante de la llingüística románica per aciu de los resultaos d'investigación del proyeutu DÉRom (Dictionnaire Étymologique Roman).


Download article