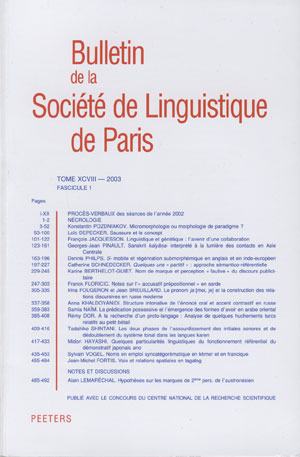 Document Details :

Title: Les embrayeurs
Subtitle: De la langue au langage
Author(s): TOUTAIN, Anne-Gaëlle
Journal: Bulletin de la Société de Linguistique de Paris
Volume: 109 Issue: 1 Date: 2014
Pages: 155-199
DOI: 10.2143/BSL.109.1.3064308

Abstract :
Cet article consiste en une analyse du traitement structuraliste de cet objet linguistique particulier que sont les embrayeurs. Nous nous efforçons de mettre en évidence les difficultés de ce traitement, afin de faire apparaître la nécessité de la théorisation saussurienne de la langue, condition d'une appréhension scientifique du langage, là où les structuralistes ne distinguent pas entre langue et langage mais proposent une analyse structurale du langage aussi bien que de la langue. Les développements les plus remarquables sont dus à Benveniste, qui se singularise par sa construction du langage comme «étiologie», construction dont l'analyse des pronoms «personnels» et autres manifestations de la subjectivité dans le langage est un élément central. Nous nous attachons donc presque exclusivement à l'élaboration benvenistienne, dont la spécificité consiste en la conjonction d'une analyse des formes linguistiques en question et de propositions spéculatives, conjonction symptomatique en même temps que constitutive d'une circularité fondamentale, qui se manifeste tout au long des différents textes que, de 1946 à 1970, Benveniste a consacrés à l'énonciation. Cette circularité est liée à l'absence de théorisation benvenistienne de la langue ou du langage. Or, c'est précisément en une telle théorisation que consiste la linguistique saussurienne, qui rend ainsi possible une appréhension non spéculative des propriétés assignées par Benveniste au langage dans ses développements relatifs à la notion d'embrayeur: par l'intermédiaire de la psychanalyse, en tant qu'elle s'articule à la théorie saussurienne.


---

This article puts forward an analysis of the structuralist approach to that specific linguistic object known as the shifter. We attempt to foreground the weak points of this approach. Our goal in doing this is to highlight that the Saussurean theorization of language (langue) is required for a scientific conception of language, in the place of a structuralist framework that fails to distinguish between langue and langage while proposing a structural analysis of both. The most noticeable further developments are due to Benveniste, who stands out in his construal of language as «etiology», where a key element is the analysis of «personal» pronouns and other linguistic manifestations of subjectivity. Therefore we almost exclusively take into consideration Benveniste's formulation, its principal feature being the conjunction of speculative assertions with a formal analysis of the shifter. We aim to demonstrate that this conjunction is both an integral part and symptomatic of a certain fundamental circularity that is evident throughout the various texts Benveniste devotes to enunciation between 1946 and 1970. This circularity is bound to the absence in Benveniste's work of a theorization of language (langue or langage). However, it is precisely the formulation of such a theorization that sets Saussurean linguistics apart; moreover this theorization makes it possible to reach non-speculative understanding of the properties that Benveniste confers on language in the development of his thoughts on the notion of the shifter. This has indeed become possible through psychoanalysis, insofar as it has relied on Saussurean theory.


---

El presente artículo consiste en un análisis del tratamiento estructuralista de ese objeto lingüístico que son los «conmutadores» (fr. embrayeurs). Hemos intentado poner de manifiesto las dificultades inherentes a tal tratamiento para de ese modo hacer surgir la necesidad de la teorización saussureana de la lengua, condición de aprehensión científica del lenguaje, allí donde los estructuralistas, sin distinguir entre lengua y lenguaje, proponen un análisis estructural del lenguaje y de la lengua. Los desarrollos más destacables en ese sentido han sido producidos por Benveniste, cuya singularidad reside en la construcción del lenguaje como «etiología», en la cual el análisis de los pronombres «personales» y de otras manifestaciones de la subjetividad en la lengua es un componente central. En este artículo nos limitamos casi exclusivamente, entonces, a la elaboración benvenisteana, cuya especificidad consiste en la conjunción de un análisis de las formas lingüísticas en cuestión y de proposiciones especulativas, sintomática y al mismo tiempo constitutiva de una circularidad fundamental que se manifiesta a través de diferentes textos que, entre 1946 y 1976, Benveniste dedica a la enunciación. Esta circularidad está ligada a la ausencia de teorización benvenisteana de la lengua o del lenguaje. Ahora bien, es precisamente en una tal teorización que consiste la lingüística saussureana, teorización que hace posible una aprehensión no especulativa de las propiedades asignadas por Benveniste al lenguaje en sus desarrollos relativos a la noción de conmutador: a través del psicoanálisis, en tanto esta disciplina se articula a la teoría saussureana.


Download article