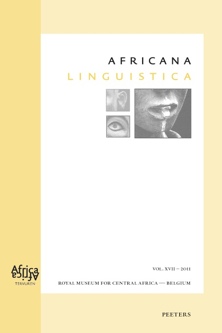 Document Details :

Title: Melodic High in Mbadja and Kwanyama
Author(s): HALME-BERNEKING, Riikka
Journal: Africana Linguistica
Volume: 20 Date: 2014
Pages: 145-161
DOI: 10.2143/AL.20.0.3062066

Abstract :
This paper explores new tonal data on the verb system of Mbadja, an Oshiwambo variety spoken in Angola, and compares it to its closely related Oshiwambo variety Kwanyama (R21). Four melodic High patterns were identified for both Mbadja and Kwanyama, with minor differences between the two varieties. The two most frequent patterns are: one without an additional High on the stem, and one with a melodic High from the second vowel of the stem all the way to the final vowel. In addition to these patterns that cover most of the verbal forms, there is one verb form with a melodic High from the second vowel of the stem to the penult, and another verb form with a High on the final vowel. In Mbadja, High verb stems present a distinct tone pattern in the Polarized forms, the O-forms (an unmarked form with initial vowel ó‑) and the Negative Present and Negative General Past forms used in main clauses.


Download article