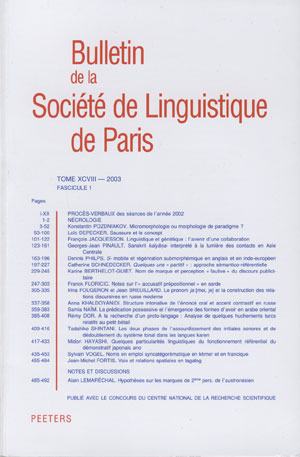 Document Details :

Title: La troncation présuffixale en grec ancien
Subtitle: Les dérivés du type de ἀλήθειᾰ et ἀμαθίᾱ
Author(s): BLANC, Alain
Journal: Bulletin de la Société de Linguistique de Paris
Volume: 108 Issue: 1 Date: 2013
Pages: 197-222
DOI: 10.2143/BSL.108.1.3019216

Abstract :
Le grec ancien a deux groupes de substantifs abstraits dérivés d'adjectifs sigmatiques: un groupe où la syllabe finale de l'adjectif sigmatique est conservée (attique ἀλήθεια < *ἀλᾱθεσίᾱ) et un groupe où cette syllabe finale a été supprimée (attique ἀμαθίᾱ < *ἀμαθ[εσ]ίᾱ). Jusqu'ici, cette dualité n'a pas reçu d'explication satisfaisante. Nous démontrons que le second groupe a été affecté par le phénomène morphologique de la troncation présuffixale. Liée au phénomène phonétique qu'est la disparition de la sifflante intervocalique, la troncation présuffixale agit ou n'agit pas dans des conditions qu'il s'agit de déterminer. On établit qu'elle a commencée à être mise en oeuvre dès le second millénaire et qu'elle s'est appliquée ou non suivant deux facteurs: l'ancienneté du dérivé et sa forme rythmique.


---

Ancient Greek has two groups of abstract substantives derived from sigmatic adjectives: a group where the final syllable of the sigmatic adjective is preserved (Attic ἀλήθεια < *ἀλᾱθεσίᾱ) and a group where the final syllable was suppressed (Attic ἀμαθίᾱ < *ἀμαθ[εσ]ίᾱ). Till now, this duality has not received any satisfactory explanation. We demonstrate that the second group was affected by the morphological phenomenon of presuffixal truncation. As it is linked to the phonetic phenomenon that is the disappearance of the intervocalic sibilant, presuffixal truncation acts, or does not act, in conditions that have to be determined. We establish that it started to appear from the second millennium onwards and that it was applied or not according to two factors, one being the former status of the derived form, the other being its rhythmic form.


Download article