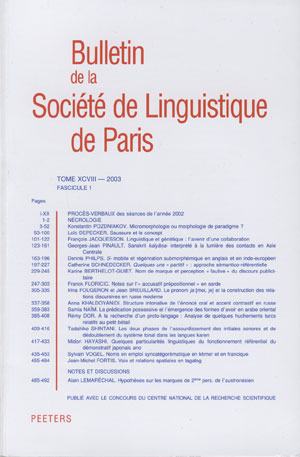 Document Details :

Title: Autour du vieux lituanien idant
Subtitle: Les origines de la subordination
Author(s): PETIT, Daniel
Journal: Bulletin de la Société de Linguistique de Paris
Volume: 108 Issue: 1 Date: 2013
Pages: 29-81
DOI: 10.2143/BSL.108.1.3019212

Abstract :
L'origine de la conjonction finale idant «pour que, afin que» du vieux lituanien est généralement considérée comme obscure, même si l'on s'accorde à y retrouver le représentant d'un thème démonstratif indo-européen *(h1)i-. Dans cet article, je m'efforce d'élucider l'origine de cette conjonction en la tirant d'un ancien adverbe démonstratif *(h1)i-dān «alors» suivi d'un datif éthique *-toi «pour toi». Cette analyse nécessite, d'une part, de rendre compte de l'évolution d'un adverbe «alors» en une conjonction finale «pour que, afin que» et, d'autre part, d'expliquer l'ajout d'un datif éthique de deuxième personne.


---

The origin of the Old Lithuanian purposive conjunction idant «in order to, so that» is generally considered to be obscure, even if it is most often recognised that it goes back to a PIE demonstrative stem *(h1)i-. In this paper, we try to elucidate the origin of this conjunction by tracing it back to an old demonstrative adverb *(h1)i-dān «then» followed by an ethical dative *-toi «for you, to you». This analysis requires us to account for the evolution of an adverb «then» to a purposive conjunction «in order to, so that» on the one hand and to explain the addition of an ethical dative of the second person pronoun on the other hand.


Download article