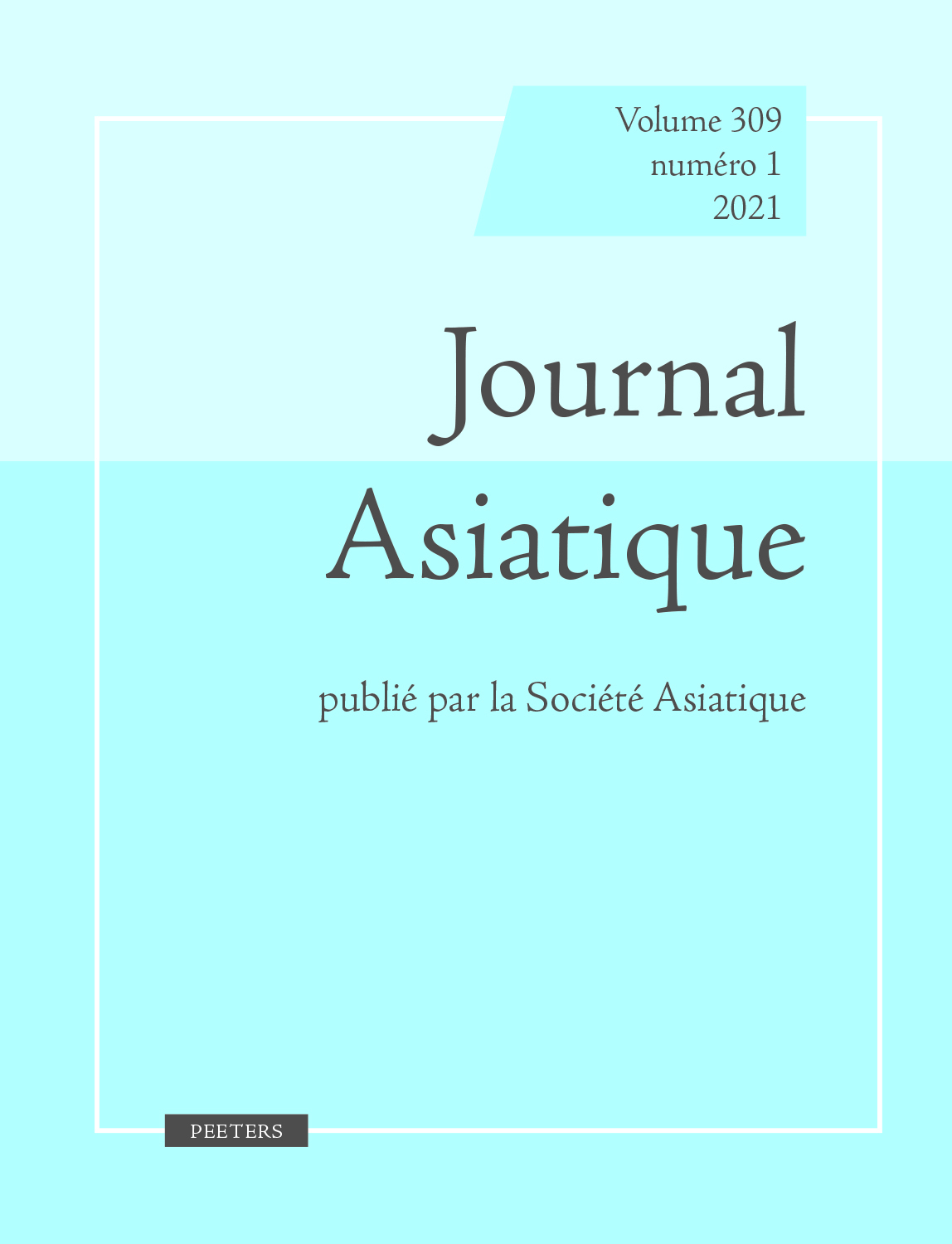 Document Details :

Title: Une communauté śivaïte du Karnāṭaka révélée par des inscriptions kannaḍa
Author(s): FILLIOZAT, Vasundhara
Journal: Journal Asiatique
Volume: 301 Issue: 2 Date: 2013
Pages: 447-469
DOI: 10.2143/JA.301.2.3001703

Abstract :
Le Karnāṭaka, un des États du sud de l'Inde, est héritier d'un grand nombre d'inscriptions gravées sur pierre, des plaques en métal tels que le cuivre, l'argent et l'or ainsi que sur d'autres matériaux durables. Ces épigraphes ne sont pas seulement des chartes historiques mais aussi des pièces littéraires, car la plupart d'entres elles sont composées en parfaite poésie suivant les dix-huit éléments codifiés de la poétique. Ces inscriptions, en grand nombre, sont en kannaḍa, mais il y en a aussi beaucoup en sanskrit. L'ensemble peut être classé en deux groupes: les inscriptions qui mentionnent un événement religieux et celles qui sont dites memorial stones ou pierres de héros et de satī. Si ces dernières enregistrent la mort d'un héros dans un combat ou que son épouse le suit sur le bûcher, les premières ont le caractère d'actes de donation. Elles parlent d'un acte religieux, en abordant longuement le pays, le royaume, le nom du roi et de sa dynastie, l'occasion de la publication de la charte, la date, le lieu et les détails de la donation. Jusqu'au 14e siècle les inscriptions ont été composées de cette manière. Un changement dans la composition des textes est survenu avec le commencement d'un nouvel empire nommé Karnāṭaka ou dit «Vijayanagara Empire». Le style devient plus simple et facile, enregistrant seulement des renseignements historiques. Le style poétique était observé sur des plaques de cuivre en sanskrit et quelques-unes en kannaḍa. Celles qui sont en poésie ont été chantées et il y avait des spécialistes de cet art qui est perdu de nos jours. Ces inscriptions sont les meilleurs outils pour écrire l'histoire oubliée des Kālāmukha et Pāśupata śivaïtes du Karnāṭaka.


---

Karnāṭaka one of the States in the South of India possesses a large number of epigraphs engraved on stone, copper, silver and gold plates including other imperishable materials. These epigraphs are not only official records but also literary pieces because of their composition in poetry following all the codified rules of Poetics. A great number of these inscriptions are in Kannaḍa, but, no doubt, there are many in Sanskrit too. The whole group of these inscriptions can be divided in two sections: one group is that which records religious events and the other consists of Memorial stones. If the latter record the death of a hero in a battle or that his spouse commits Satī the former record a donation. These donatory records, like in literary works, start with an homage to Śiva and to the local deity, then do the description of earth, ocean, the ruling monarch and his dynasty, his preceptor and the history of a pontifical seat, name of the donor and the done, and finally the details of the donation. These charters end with benedictory and imprecatory verses in Sanskrit. This practice of composing the text of charters in poetry was very much in vogue till the mid fourteenth century. With the commencement of the new empire called Karnāṭaka, wrongly known as «Vijayanagar Empire», a drastic change came in the composition which lost their literary values. With the new empire the Śivaite community also disappeared from the society. So the inscriptions written before the fourteenth century are the best instruments to retrace the history of the disappeared Pāśupata and Kālāmukha Śaiva community. The data in the inscriptions come very handy in the task of writing history.


Download article