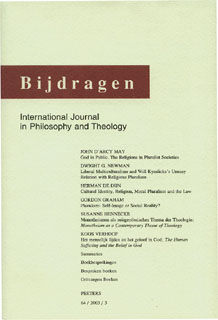 Document Details :

Title: Transcendentie en het innerlijk
Subtitle: Over de religieuze dimensie van technologie en de technologische dimensie van religie
Author(s): AYDIN, Ciano
Journal: Bijdragen
Volume: 73 Issue: 3 Date: 2012
Pages: 258-280
DOI: 10.2143/BIJ.73.3.2184717

Abstract :
According to Max Weber, 'the fate of our times' is characterized by the 'disenchantment of the world', which means that the scientific ambition of rationalization and intellectualization of the world, as well as the attempt to master nature through technology will greatly limit the scope of religion. This paper will try to debunk this 'technology is a threat to religion' framework and show from a so-called interactionist perspective how technology and religion are intertwined. The religious character of technology and the technological character of religion will be illustrated by focusing on two important dimensions that can be safely recognized as indispensable or at least important in virtually every religion and religious experience: transcendence and inner life. Reflection on these notions will evidence that both technology and religion can be considered as part of the practice of living a good life.