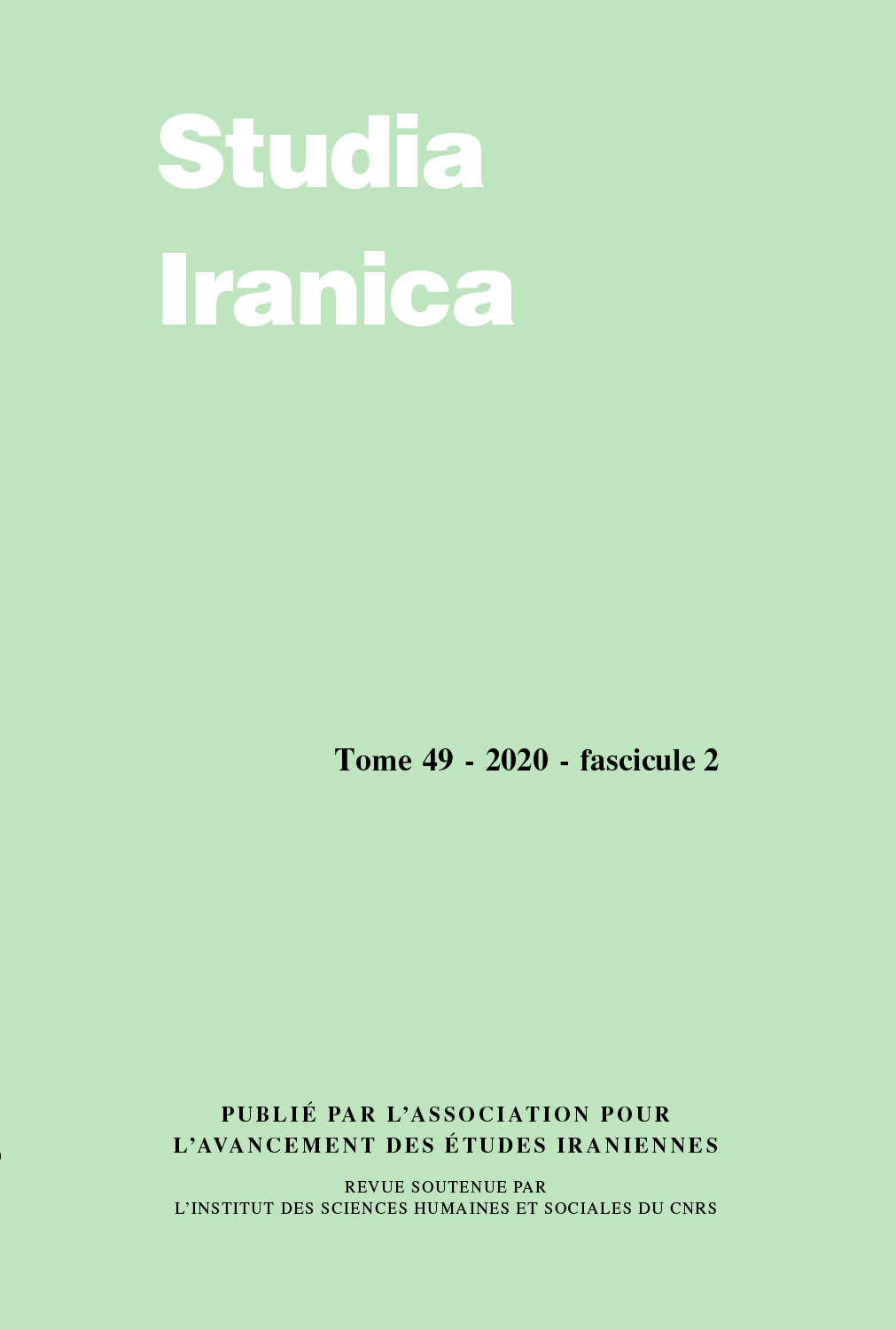 Document Details :

Title: Religious Regulation of Hospitality in the Gāthās (Y 46.5 & 6)
Author(s): AHMADI, Amir
Journal: Studia Iranica
Volume: 41 Issue: 1 Date: 2012
Pages: 7-24
DOI: 10.2143/SI.41.1.2170699

Abstract :
More than any other Gāthic text Yasna 46 is concerned with issues that reflect the circumstances of Zarathuštra's life. This makes it extremely valuable for interpretation of the Gāthās, since here we may find clues about the image the poet had of himself. Did the poet think of himself as a 'prophet', as Mazdaean tradition and the Western scholarship in the main believe? Or, as a new current of Avestan studies has it, was he a Vedic-type poet and ritual performer who should be imagined within the same 'traditional' mold as the poets of the so-called Family Books of the Ṛgveda? The poet's intention to have an impact on community norms is shown in Y 46.5 and 6 by his religious regulation of the important custom of hospitality. I examine four previous translations of these verses, arguing that their syntax was wrongly analyzed and as a result their sense and significance remained completely obscure. Based on a detailed syntactic and semantic analysis of these verses I offer a new translation. I conclude by pointing out the relevance of the findings for a few controversial issues of contemporary Avesta scholarship.


---

Parmi les textes gathiques, c'est le Yasna 46 qui est le plus concerné avec les questions des circonstances de la vie de Zarathuštra. Ce texte est précieux pour l'interprétation des Gāthās car il offre des indices sur l'image que le poète avait de lui-même. Est-ce que le poète se considérait comme un «prophète», conformément à l'idée répandue dans la tradition mazdéenne et, généralement, dans la recherche occidentale? Ou, comme le propose un nouveau courant d'études avestiques, était-il un poète de type védique et un artiste rituel que l'on devrait imaginer comme appartenant au même moule «traditionnel» que celui des soi-disant poètes des Livres de la Famille du Ṛgveda? L'intention du poète d'influencer les normes communautaires est visible dans le Y 46.5-6 où figurent les règles religieuses relatives à l'importante coutume de l'hospitalité. Nous étudions quatre traductions antérieures de ces vers, en arguant que, leur syntaxe ayant été analysée de façon erronée, leur sens et leur signification sont restés complètement obscures. Nous proposons une nouvelle traduction basée sur une analyse syntaxique et sémantique détaillée. En conclusion, nous soulignons la pertinence de ces résultats pour certaines questions controversées de la recherche contemporaine sur l'Avesta.


Download article