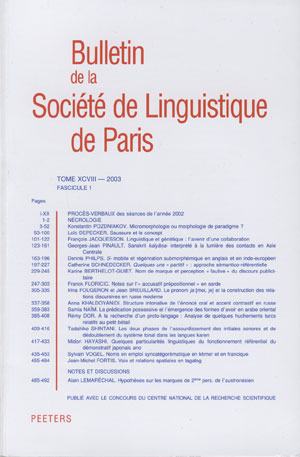 Document Details :

Title: Généalogie d'un article étymologique
Subtitle: Le cas de l'étynom protoroman */βi'n-aki-a/ dans le Dictionnaire Étymologique Roman
Author(s): DELORME, Jérémie
Journal: Bulletin de la Société de Linguistique de Paris
Volume: 106 Issue: 1 Date: 2011
Pages: 305-341
DOI: 10.2143/BSL.106.1.2141873

Abstract :
Comment rédige-t-on un article étymologique? À cette question, on répondra d'expérience par l'exemple d'un article du Dictionnaire Étymologique Roman. Les phases par lesquelles a transité sa rédaction, les choix qui ont soutenu son auteur dans la conduite de son raisonnement, les motifs sur lesquels l'auteur a fondé ses décisions, la suite des décisions qui, prises par l'auteur tout au long du processus d'élaboration, lui ont permis de mettre à jour l'état des connaissances relatives à un étymon et de leur consacrer un article neuf: tout cela se trouve ici décortiqué. De l'analyse dont on double cet examen se dégageront in fine des pistes pour souligner l'originalité du travail d'étymologiste-lexicographe.


---

In what does the process of writing up an etymological article consist? The answer given here is based on the experience gained in writing an article for the Dictionnaire Étymologique Roman. Several elements of this experience are recorded and developed. They include the successive steps in writing the text, the choices that had to be made, the motives which guided decisions, the sequence of decisions through which the knowledge about an etymon was updated and transformed into a new article. This report is complemented by reflections on the originality of the specific task of the etymologist-lexicographer.


---

Co scrìven pa n articul etimologich∞∞? A chesta domanda responaronse d'esperienza, con l ejempl de n articul dl Dictionnaire Étymologique Roman: i mostraron su les fases de redazion de n tel articul, les dezijions che l autour à messù tó tratant l laour de redazion y les argomentazions a la basa de chestes dezijions. L cheder che nen resulteia descriv l degré de conescenzes che i on al didancuei sun n etimon defront ai dizionars etimologics plu vedli y che nes permet de i dediché n articul nuef tl Dictionnaire Étymologique Roman. Dlongia chesta analisa volesson ence mostré su l'importanza y l'originalité che l laour de etimologh-lessicograf à tres ciamó al didancuei.


Download article