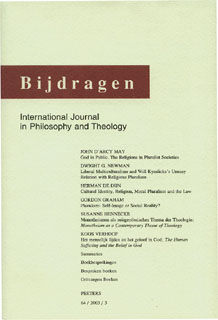 Document Details :

Title: Towards a Derridean Spirituality
Subtitle: Derrida and Abulafia
Author(s): SNELLER, Rico
Journal: Bijdragen
Volume: 72 Issue: 3 Date: 2011
Pages: 298-321
DOI: 10.2143/BIJ.72.3.2141837

Abstract :
Reading Derrida against the backdrop of the mystical writings of the Jewish Medieval cabbalist Abulafia, Sneller claims that, oddly enough, there are many similarities between the theories of writing of these two otherwise strange bedfellows. Even though Sneller firmly denies that there is any direct influence of Abulafia on Derrida, he argues that a better understanding of Abulafia's letter-oriented mysticism could shed light on some of Derrida's seemingly incomprehensible comments on writing and textuality. Expanding on Moshe Idel's suggestion that Abulafian exegesis does not restrict itself to Holy Scripture, Sneller argues that one can indeed see these methods equally at work in Derrida's work. After introducing Abulafia's most important 'methods' of reading texts, Sneller shows through a careful reading of a selection of Derrida's comments on literary texts and poetry that his attention was mainly attracted by scribal oddities and the pictorial, ultra-lingual and extra-communicational aspects of letters and letter combinations, exactly the issues which constitute Abulafia's fifth and sixth 'path of explanation'. As for Abulafia's seventh and most important method, which would allow him to transform the verses of the Torah into divine names, Sneller argues that Derrida's quasi-transcendentals such as the trace, différance, and the grammē representdif ferent 'proper' names of God that recall and announce a singular event that has been and yet always still has to come.