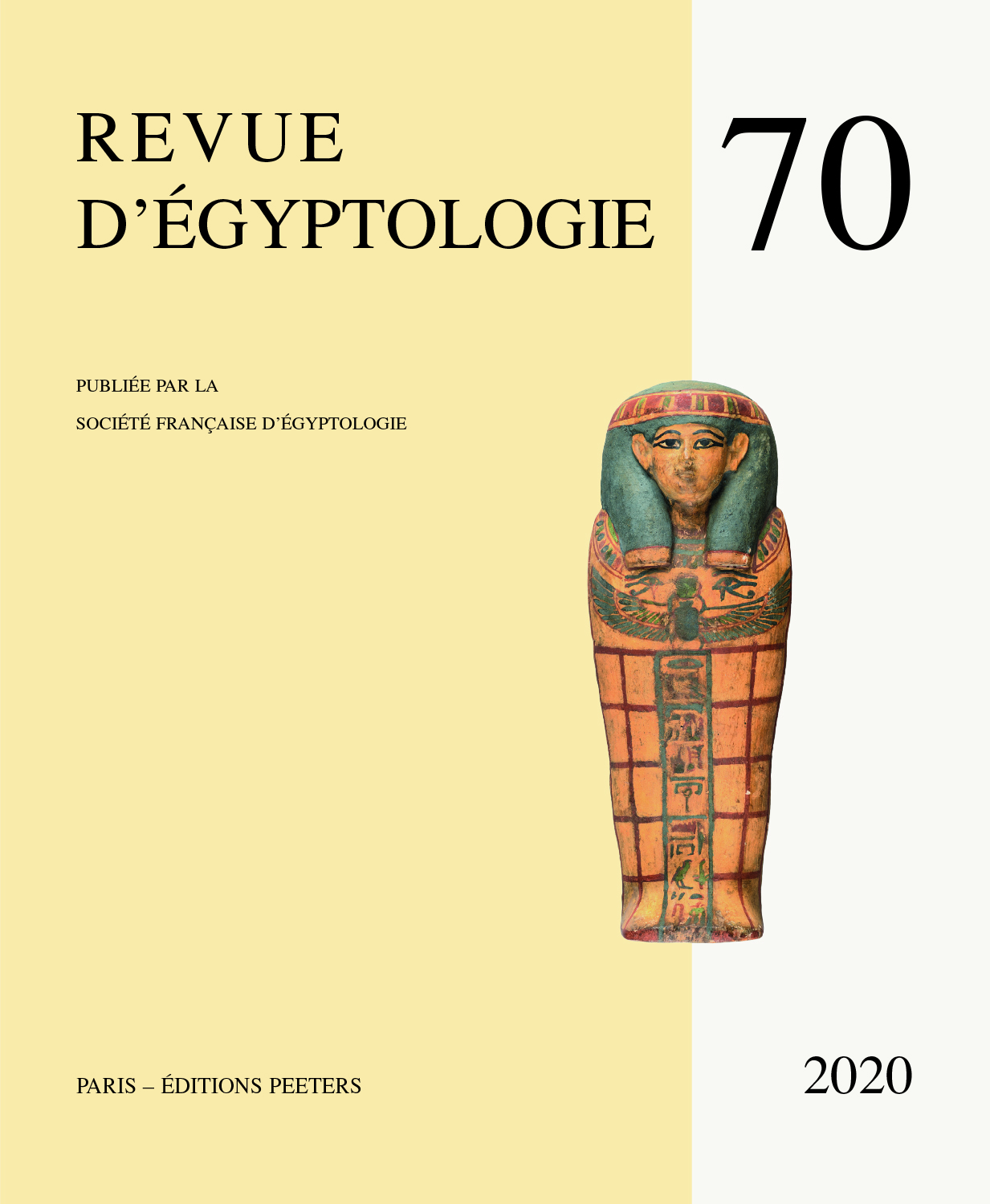 Document Details :

Title: Ramsès II «admirait» aussi Amenhotep III
Subtitle: À propos du groupe statuaire CG 555 du musée égyptien du Caire
Author(s): LORAND, David
Journal: Revue d'Égyptologie
Volume: 62 Date: 2011
Pages: 73-87
DOI: 10.2143/RE.62.0.2136930

Abstract :
La triade CG 555 du musée égyptien du Caire est généralement considérée comme une oeuvre représentant le pharaon Ramsès II entouré des déesses Hathor et Isis. Retrouvée à Coptos par W.M.Fl. Petrie, l'oeuvre présente les traces évidentes d'une usurpation à l'époque ramesside. Dans un précédent article, Cl. Vandersleyen avait suggéré d'y reconnaître un groupe statuaire originellement commandité par Sésostris Ier. L'étude récente du corpus statuaire du second souverain de la XIIe dynastie menée par l'auteur du présent article invite cependant à considérer la proposition de Cl. Vandersleyen comme problématique. En effet, à la lumière de nouvelles comparaisons stylistiques, il s'avère que le groupe CG 555 ne présente que peu d'affinités avec les oeuvres sésostrides, tandis qu'il se rapproche plus certainement des statues consacrées sous le règne d'Amenhotep III.


---

The statuary group CG 555 from the Egyptian Museum Cairo is usually considered as a representation of the pharaoh Ramesses II surrounded by Hathor and Isis. Found by W.M.Fl. Petrie in Koptos, the statue shows evidences of an usurpation during the ramesside era. In a previous paper, Cl. Vandersleyen suggested that the statuary group was originally dedicated by Senwosret I. The recent study of Senwosret I' statuary corpus by the author indicates however that the hypothesis of Cl. Vandersleyen is problematic. Indeed, new stylistic comparisons with the group CG 555 show that there are scarce similarities with the works of Dynasty 12, and that CG 555 actually shares basic characteristics with statues dedicated by Amenhotep III.


Download article