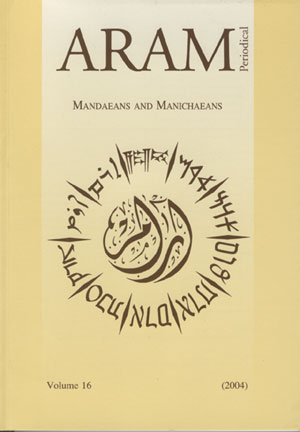 Document Details :

Title: Adam and Seth in Arabic Medieval Literature
Subtitle: The Mandaean Connections in al-Mubashshir Ibn Fātik's Choicest Maxims (11th c.) and Shams al-Dīn al-Shahrazūrī al-Ishrāqī's History of the Philosophers (13th c.)
Author(s): COTTRELL, Emily
Journal: ARAM Periodical
Volume: 22 Date: 2010
Pages: 509-547
DOI: 10.2143/ARAM.22.0.2131052

Abstract :
In the middle of the thirteenth century, Shams al-Dīn al-Shahrazūrī al-Ishrāqī (d. between 1287 and 1304) wrote an Arabic history of philosophy entitled Nuzhat al-Arwāh wa Rawḍat al-Afrāḥ. Using some older materials (mainly Ibn Nadīm; the Ṣiwān al-ḥikma, and al-Mubashshir ibn Fātik), he considers the 'Modern philosophers' (ninth-thirteenth c.) to be the heirs of the Ancients, and collects for his demonstration the stories of the ancient sages and scientists, from Adam to Proclus as well as the biographical and bibliographical details of some ninety modern philosophers. Two interesting chapters on Adam and Seth have not been studied until this day, though they give some rare – if cursory – historical information on the Mandaeans, as was available to al-Shahrazūrī al-Ishrāqī in the thirteenth century. We will discuss the peculiar historiography adopted by Shahrazūrī, and show the complexity of a source he used, namely al-Mubashshir ibn Fātik's chapter on Seth, which betray genuine Mandaean elements.


Download article