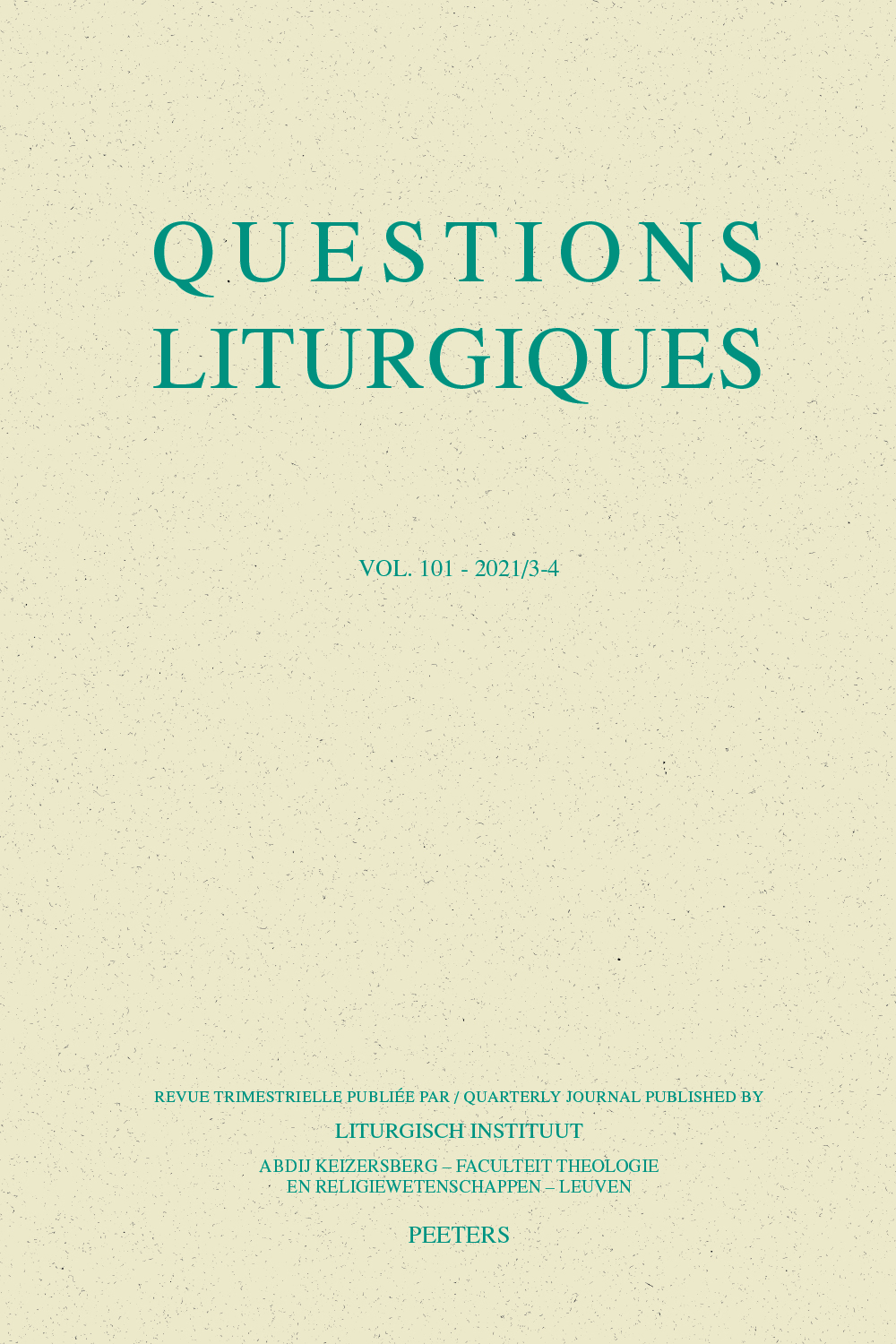 Document Details :

Title: A Theological Encounter with Louis-Marie Chauvet
Subtitle: A Survey of Recent Anglophone Literature
Author(s): VAZHAPPILLY, Bilju F.
Journal: Questions Liturgiques/Studies in Liturgy
Volume: 92 Issue: 1 Date: 2011
Pages: 46-85
DOI: 10.2143/QL.92.1.2067485

Abstract :
This article discusses Louis-Marie Chauvet's theology through a survey of recent Anglophone studies and commentaries. The survey covers a variety of genres of literature such as book reviews, dissertations/theses, dissertations in progress, collected works, festschrifts, conference proceedings, articles in edited books, journals, online-journals and websites, and key references in books. It takes only a quick scan of trends in sacramental theology in English since 1988 to see the influence of, and perspectives on, Chauvet's work. The author claims that the broad reaching influence of Chauvet's versatility both in theological and pastoral realms makes this survey valuable, as it is the first English survey of his works and theology. This survey is a guiding tool for those researchers interested in Chauvet and for students in the field of sacramental theology to approach the work of Chauvet from various perspectives. The goal of the article is to introduce each work and deliver a critical comment with a view to providing the possibility of a better theological acquaintance with Chauvet's theological contributions. This theological encounter highlights Chauvet's erudition and groundbreaking achievements. The article also sheds light on the strength and greatness of Chauvet's sacramental theology. However, the author additionally pays attention to the criticisms raised by recent researchers regarding the risks and challenges inherent in the application of Chauvet's theology today.


---

Cet article explore la théologie de Louis-Marie Chauvet par le biais d'un examen de récentes études et commentaires anglophones. Ce survol recouvre une variété de genres littéraires comme des recensions de livres, des dissertations/thèses, des dissertations en élaboration, des ouvrages collectifs, des articles dans des livres édités, des périodiques, des ouvrages collectifs, des festschrifts, des actes de congrès, des online-journals et websites, et des références majeures dans des ouvrages. Un rapide examen des tendances dans la théologie sacramentelle en anglais depuis 1988 suffit pour percevoir l'influence et les perspectives quant au travail de Chauvet. L'auteur argumente que l'influence profonde de la diversité de Chauvet à la fois dans des domaines théologiques et pastoraux rend cet examen de valeur, car il constitue le premier survol anglais de ses travaux et sa théologie. Cet aperçu constitue un instrument, un guide pour tous les chercheurs qui s'intéressent à Chauvet et pour les étudiants dans le domaine de la sacramentaire afin d'approcher l'oeuvre de Chauvet sous diverses perspectives. Le but de cet article est d'introduire chaque ouvrage et de proposer un commentaire critique afin de se familiariser davantage avec les contributions théologiques de Chauvet. Cette rencontre théologique fait ressortir l'érudition de Chauvet et son rôle innovateur. Cet article met aussi en évidence la qualité et la grandeur de la sacramentaire de Chauvet. Néanmoins, l'auteur retient additionnellement l'attention sur les critiques émises par des chercheurs récents sur les risques et controverses inhérents dans l'application de la théologie de Chauvet actuellement.


Download article