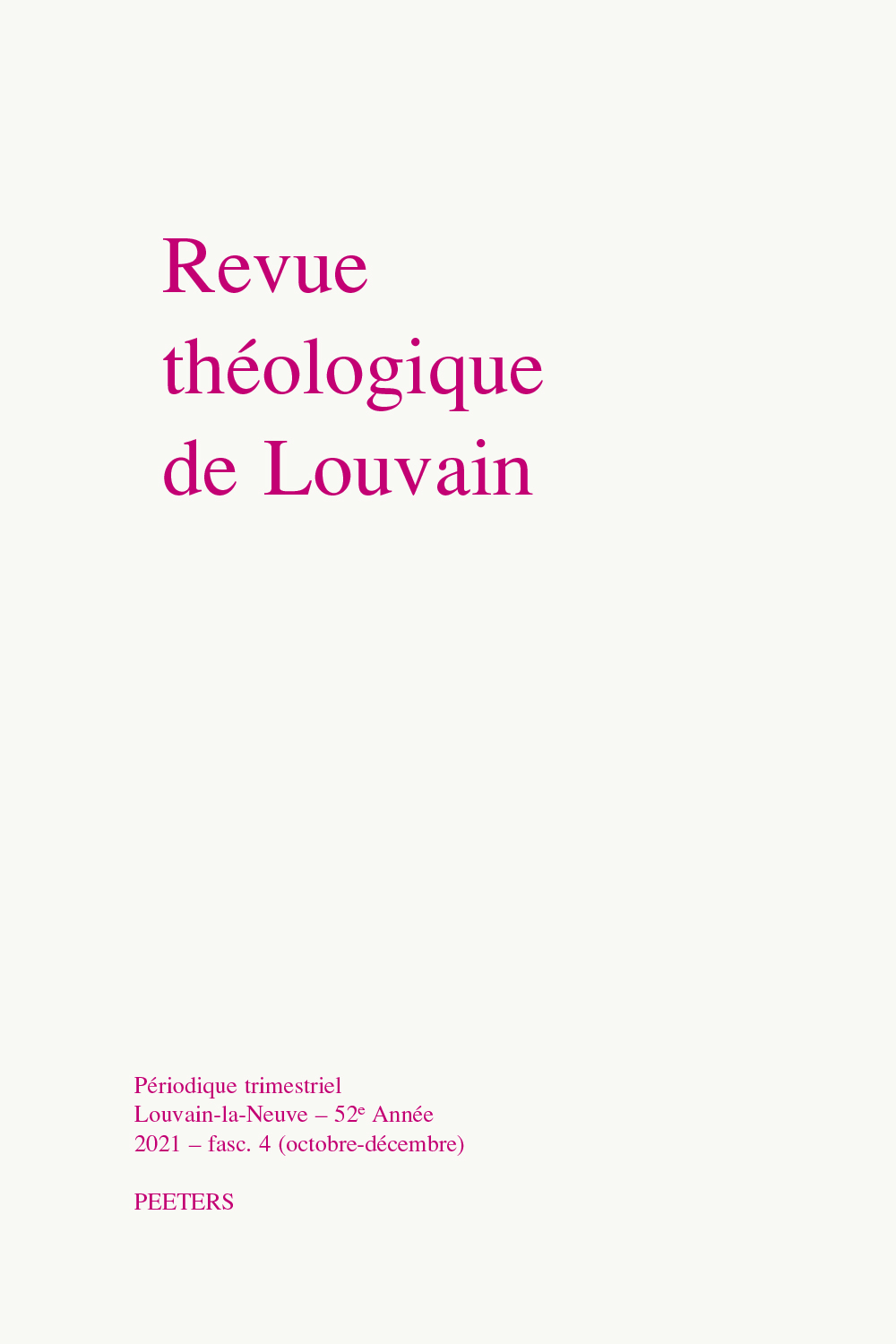 Document Details :

Title: Sagesse et révélation
Subtitle: Réflexion théologique à partir de la Chine
Author(s): VERMANDER, Benoît
Journal: Revue Théologique de Louvain
Volume: 42 Issue: 1 Date: 2011
Pages: 53-74
DOI: 10.2143/RTL.42.1.2066228

Abstract :
À partir d'une rencontre avec la «sino-théologie», l'auteur tente une double ressaisie: du rapport entre sagesse et révélation tel qu'il nous est loisible de le penser aujourd'hui; du régime de la sagesse chinoise et, par extension, d'autres expressions de la «sagesse des peuples» à la lumière d'une herméneutique renouvelée. Il suggère quelques chemins par lesquels «sagesse» et «révélation» peuvent être comprises comme des catégories «ouvertes», ne recevant sens et pertinence que d'être référées à une constante reprise à neuf. En parallèle, le régime épistémologique de la sagesse chinoise se découvre avoir vocation à former un type d'homme en qui l'humanisation est inséparable du sens de la perte et de la quête, et du retournement des sens vers l'intérieur. Le passage par la tradition chinoise nous permet de saisir comment la catégorie de «révélation» ne fait sens qu'en relation à une «sagesse» qui seule en permet la réception par l'interprétation vivante dont elle fournit la trame.


---

On the basis of an encounter with «Sino-theology», the author attempts at recapturing: (a) the relationship between the concepts of Wisdom and Revelation as we may be able to grasp and express it today; (b) the nature and logic of Chinese wisdom – and, by extension, of other expressions of the «wisdom of nations» – in the light of a renewed hermeneutical approach. He suggests a number of paths whereby «Wisdom» and «Revelation» can be understood as open categories which acquire meaning and relevance only when reworked and understood anew. In parallel, Chinese wisdom, as an epistemological endeavour, is meant to foster a humanization process taking shape through a sense of quest, and of loss, with human senses being turned inwards. The detour through Chinese tradition allows us to better grasp the fact that «Revelation» as thought category only makes sense when put in relationship with «Wisdom», the latter allowing for the Revelation to be received through a lived interpretation, the pattern of which it provides.


Download article