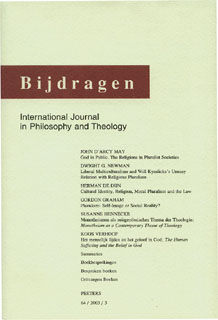 Document Details :

Title: John Henry Newman on Indwelling and Justification
Subtitle: An Exception to the Anti-Trinitarian Fearfulness of Western Theology?
Author(s): RIKHOF, Herwi
Journal: Bijdragen
Volume: 71 Issue: 3 Date: 2010
Pages: 239-267
DOI: 10.2143/BIJ.71.3.2061174

Abstract :
Does John Henri Newman also suffer from the 'anti-trinitarian fearfulness' Karl Rahner sees as a characteristic feature of western theology? Rahner refers with that disqualification to a tendency in theology to prefer the gifts of the Spirit (created grace) to the gift of the Spirit (uncreated grace) and to the metaphorical interpretation of texts about indwelling. Two texts by Newman are analysed: a Pentecost sermon on indwelling and his Lectures on Justification. In the sermon there is no sign of that anti-trinitarian fearfulness. But since that sermon could be viewed as an occasional piece, the more wide ranging Lectures are also analysed. In these Lectures Newman argues that both the protestant (Luther) and catholic theologians are too quickly satisfied in their discussions of justification, since they are pointing either to faith or to spiritual renovation, since they take not into consideration the basis of both faith and renovation: the presence of the Spirit. Moreover, he argues explicitly for a literal understanding of the biblical text about indwelling. Newman is often seen as the invisible peritus of the Second Vatican Council. On the basis of the texts analysed one can argue that he can be considered a forerunner for the current renaissance of the theology of the Trinity as well, be it that more research needs to be done to give this conclusion a broader basis.