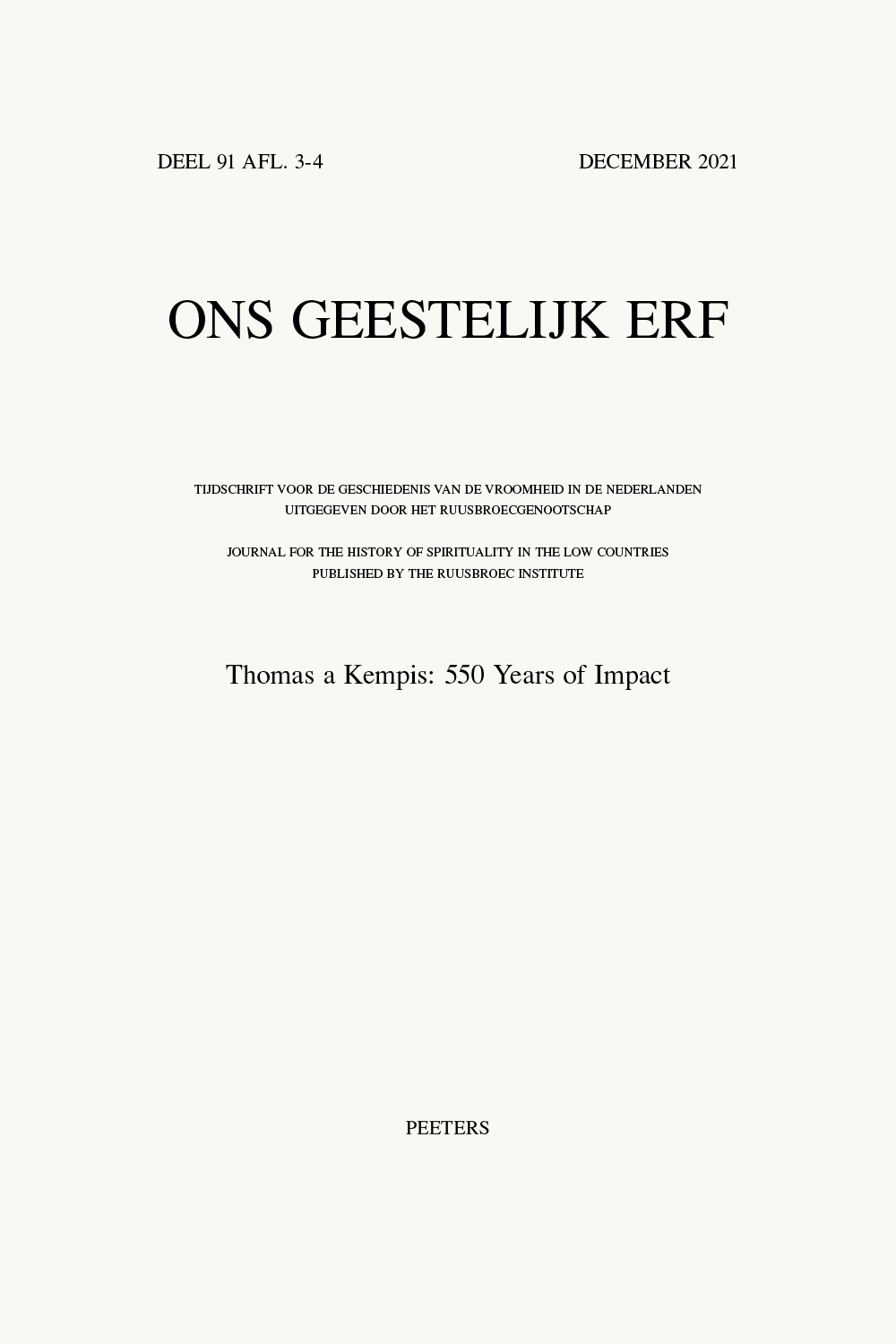 Document Details :

Title: Het Sint-Agnesklooster en de Moderne Devotie
Author(s): GOUDRIAAN, Koen
Journal: Ons Geestelijk Erf
Volume: 81 Issue: 1 Date: Maart 2010
Pages: 17-37
DOI: 10.2143/OGE.81.1.2049255

Abstract :
The monastery of Saint Agnes at Arnhem rooted in the fifteenth-century reform movement of the Devotio Moderna. The central question of this contribution concerns the extent to which the spiritual renewal occurring in this monastery in the middle of the sixteenth century may be accounted for by impulses from within the Devotio Moderna.
In the first part, the institutional and personal ties with the Modern Devotion are investigated. From approximately 1459 onwards, the inhabitants lived as regular canonesses according to the rule of Saint Augustine. They are called moniales (nuns), which makes it likely that at least part of them used to sing the Latin office. The monastery was not incorporated in the Chapter of Windesheim as a full member, which did not prevent it from receiving pastoral care by regular canons belonging to the Chapter. In the beginning of the sixteenth century confessors used to come from Albergen (Twente), and from the last decads of this century onwards from Gaesdonck (Lower Rhine region): so much was known already. It now appears that in the years around 1560 a significant role has been played by Nicolaas van Diepenbroick, a confessor originating from the monastery of Bethlehem in the city of Zwolle. Bethlehem was one of the members of the Chapter of Windesheim that maintained strict regular observance right through the sixteenth century. Moreover, it possessed an important library, nothing of which is left now, unfortunately. Diepenbroick succeeded in ending a crisis that had put community life in the monastery of Saint Agnes in jeopardy.
The second part of this article focuses on texts produced by authors from within the Devotio Moderna and circulating in the monastery. The number of such texts is rather modest, but the contexts in which they have been handed down, are interesting. A first group of texts is found in three manuscripts, which, together with a fourth one, were copied in and for the monastery around the year 1470. The general content of these manuscripts focuses on the building up of life in community and on the acquisition of monastic virtues. They belong to the period immediately following the adoption by the sisters of Saint Agnes of the rule of Saint Augustine. The texts originating within the Devotio Moderna and copied in the middle of the sixteenth century are of a definitely more mystical nature. Tentatively, some of the manuscripts containing them may be brought in connection with the restauration period under the guidance of Nicolaas van Diepenbroick.


Download article