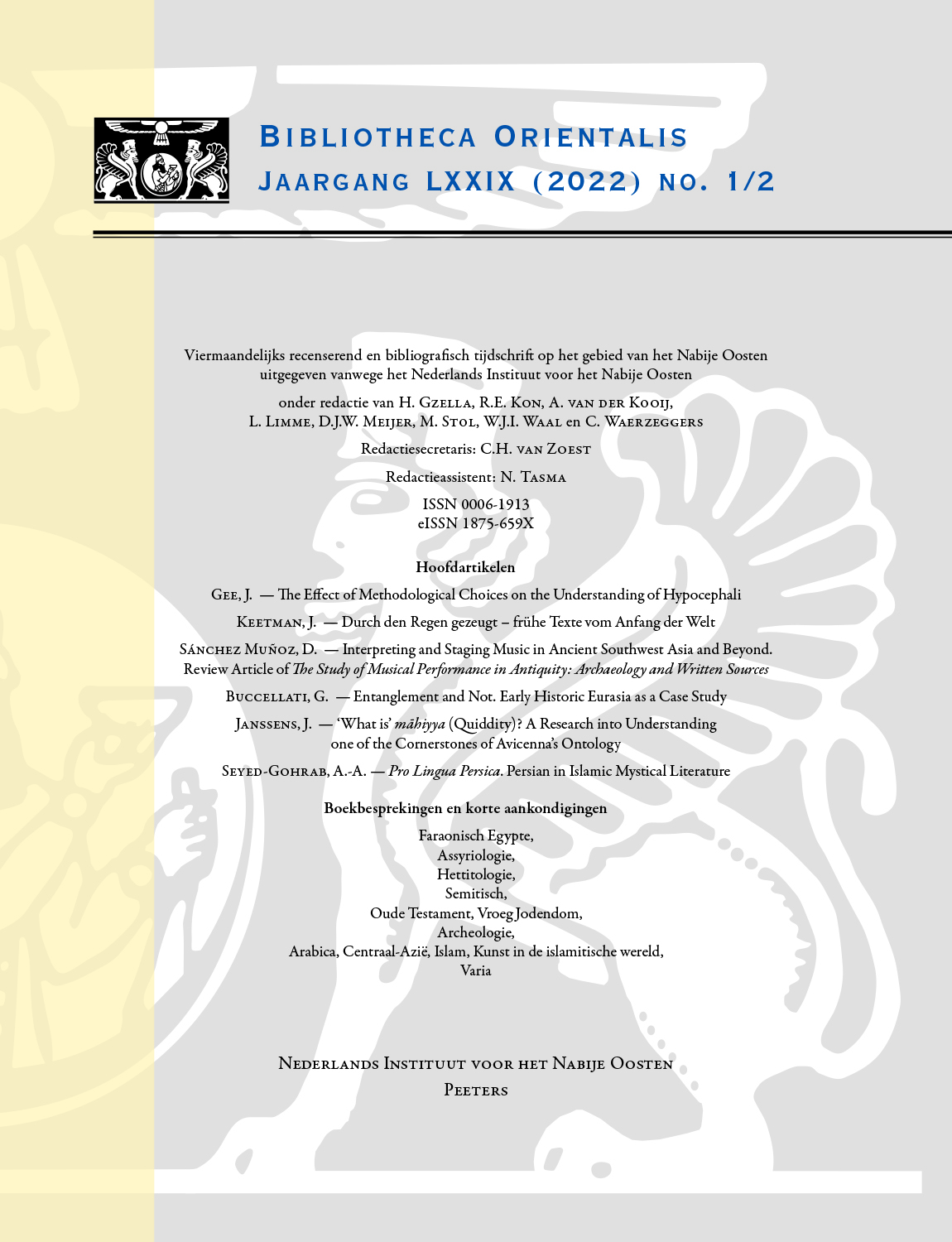 Document Details :

Title: Archeologie
Author(s):
Journal: Bibliotheca Orientalis
Volume: 66 Issue: 5-6 Date: 2009
Pages: 653-679
DOI: 10.2143/BIOR.66.5.2047139

Abstract :
PEDDE, F., LUNDSTRÖM, S. - Der Alte Palast in Assur. Architektur und Baugeschichte. (Baudenkmäler aus assyrischer Zeit 11, WVDOG 120). Verlag Otto Harrassowitz, Wiesbaden, 2008.

HUOT, J.-L. - Une archéologie des peuples du Proche-Orient. Tome II: Des hommes de palais aux sujets des premiers empires (IIe-Ier millénaire av. J.-C.). Éditions Errance, Paris, 2004.

CRAWFORD, H. - Sumer and the Sumerians. (Second edition). Cambridge University Press, Cambridge, 2004.

FRANKEN, H.J. - A History of Potters and Pottery in Ancient Jerusalem. Excavations by K.M. Kenyon in Jerusalem 1961-1967. Equinox Publishing Limited, London, 2005.

SPARKS, R.T. - Stone Vessels in the Levant. (The Palestine Exploration Fund Annual VIII). Maney Publishing, Leeds, 2007.

LOFFREDA, S. - Documentazione fotografica degli scavi (1968-2003). (Cafarnao V). Franciscan Printing Press, Jerusalem, 2005.

WIGHTMAN, G.J. - Sacred Spaces. Religious Architecture in the Ancient World. (Ancient Near Eastern Studies Supplement Series 22). Peeters, Leuven, 2006.

ANTONIADOU, S., PACE, A. (eds.) - Mediterranean Crossroads. The Pierides Foundation, Nicosia, 2007.


Download article