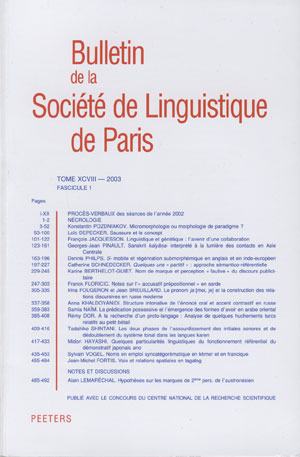 Document Details :

Title: A et I, ou tel est mon bon plaisir
Author(s): FOUGERON, Irina
Journal: Bulletin de la Société de Linguistique de Paris
Volume: 104 Issue: 1 Date: 2009
Pages: 361-382
DOI: 10.2143/BSL.104.1.2046995

Abstract :
Les études russes consacrées aux conjonctions de coordination analysent chacune d'elles indépendamment des autres. Dans des travaux antérieurs, nous avons montré qu'il existe en russe moderne certains indices sélectifs communs à no et a. Il semblerait qu'entre a (adversative) et i (cumulative) il existe de nombreux emplois concurrents. On remarque d'ailleurs que pour traduire les trois conjonctions de coordination russes le français ne dispose que de deux conjonctions: si la conjonction no (adversative) est, très souvent, traduite par «mais», a et i se traduisent toutes deux par «et».
Nous nous proposons, sur la base du russe contemporain, de mettre en évidence les différents indices sélectifs des conjonctions a et i (chacune pouvant être «interne» ou «externe» selon la terminologie de S. Karcevski), et de montrer:
– quelles sont les modifications dans l'organisation du message apportées par l'emploi de l'une ou l'autre de ces conjonctions en contexte lexico-syntaxique identique,
– quelles sont les manifestations intonatives de ces changements,
– quelles sont les répercussions de ces modifications sur le fonctionnement de la phrase dans le contexte.
En vieux-slave, a et i étaient très proches: dans différentes copies d'un même texte, une conjonction pouvait être employée à la place de l'autre. L'analyse des textes vieux-russes nous a permis de voir que certaines expressions ont totalement changé de sens du fait du jeu des deux conjonctions a et i. Nous illustrerons notre analyse d'exemples tirés de textes anciens qui sont, aujourd'hui, devenus proverbiaux.


---

The Russian works devoted to coordinating conjunctions analyze each of them independently of the others. In my earlier publications, I have shown that in contemporary Russian i and a share some distinctive features. It's likely that a (adversative) and i (cumulative) concur in a lot of functions. In order to translate the three conjunctions of Russian coordination, French has only two conjunctions: conjunction no (adversative) is often translated as «mais», whereas both a and i will be rendered by «et». Collecting our material from contemporary Russian, we set out to cast new light on the different distinctive features of conjunctions a and i (each can be «internal» or «external», according to S. Karcevsky's terminology). We intend to specify:
– Which changes occur in the organization of the «message» conveyed by the use of each conjunction in similar lexico-syntactic context;
– What are the effects of these changes on intonation;
– What are the implications of these changes on the organization of the sentence in context.
In Old Slavonic a and i were very close: in different copies of the same text each could be used instead of the other. The analysis of Old-Russian texts shows that some phrases gained a totally new meaning because of functional changes of both conjunctions a and i. We illustrate our analysis by focusing on phrases, which are derived from ancient texts which have now become proverbial.


Download article