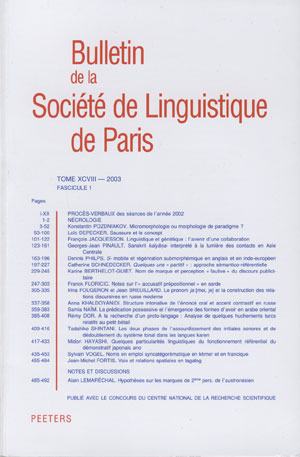 Document Details :

Title: Pour une linguistique pure
Author(s): LAZARD, Gilbert
Journal: Bulletin de la Société de Linguistique de Paris
Volume: 104 Issue: 1 Date: 2009
Pages: 1-15
DOI: 10.2143/BSL.104.1.2046985

Abstract :
La conception saussurienne de la langue comme forme surgissant de l'association de deux substances amorphes en fait un objet scientifique conforme aux conditions épistémologiques de la fondation d'une véritable science. La «linguistique pure», qui s'applique à cet objet, se situe au centre des sciences du langage et laisse le champ libre à toutes, y compris la recherche des rapports avec la psychologie et les autres disciplines cognitives. On montre qu'elle est plus proche du statut scientifique que les formes les plus avancées de «grammaire de construction».


---

The Saussurian conception of language as a form emerging from the association of two amorphous substances makes it a scientific object conforming to the epistemological requirements for the foundation of a real science. 'Pure linguistics', defined as the study of that object, is at the centre of all language sciences and leaves the field clear for all of them, including the quest for connections with psychology and other cognitive disciplines. It is shown that it is closer to scientific status than the most advanced forms of 'construction grammar'.


---

Saussures Auffassung der Sprache als eine von der Verbindung zweier formlosen Substanzen aufgetauchte Form macht sie zu einem wissenschaftlichen Objekt, das mit den epistemologischen Grundbedingungen einer wirklichen Wissenschaft in Übereinstimmung steht. Die Untersuchung dieses Gegenstands, d.h. die 'reine Linguistik', ist der Kern von allen Sprachwissenschaften und lässt ihnen allen freie Bahn, insbesondere den Untersuchungen über die Beziehungen mit Sprachpsychologie und anderen kognitiven Wissenschaften. Es wird gezeigt, dass die reine Linguistik von einer wirklichen Wissenschaft weniger entfernt ist als die am meisten fortgeschrittenen Darstellungen der 'Konstruktionsgrammatik'.


Download article