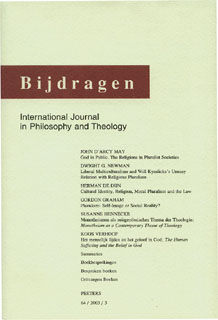 Document Details :

Title: The Burden of the Absurd
Subtitle: Camus on the Problem of Suicide
Author(s): WOLFS, Torben
Journal: Bijdragen
Volume: 71 Issue: 1 Date: 2010
Pages: 65-84
DOI: 10.2143/BIJ.71.1.2046948

Abstract :
In Le mythe de Sisyphe Camus deals with the problem of suicide because of the absurdity of life. He sees people committing suicide because they think life, being absurd, is no longer worthwhile. But does the absurdity of life imply that life is not worthwhile? He argues this is not the case. The logic of the absurd leads to revolt, freedom and passion for life. These make life worthwhile. So suicide is not the conclusion of the logic of the absurd. However, his argument, though inspiring, fails to recognize the problem of suicide. Why do people who commit suicide because of the absurd believe life is no longer worthwhile? In my article I try to answer this question. In L'homme révolté Camus states that revolt can be contaminated by ressentiment. I think this contamination can explain why people believe life in an absurd world is no longer worthwhile. Based on Scheler's analysis of ressentiment in Das Ressentiment im Aufbau der Moralen I try to describe the process of this contamination. It is argued first that ressentiment is a consequence of the final impotence of revolt to protect what is valuable, second that revolt will not transform in ressentiment only when it is capable of overcoming itself in resignation.