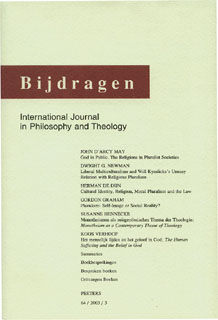 Document Details :

Title: Dangerous Alliances, Absorption, Co-Existence
Subtitle: A Systematic Proposal on the Relation between Religion and Politics
Author(s): DE WIT, Theo A.W.
Journal: Bijdragen
Volume: 70 Issue: 4 Date: 2009
Pages: 385-407
DOI: 10.2143/BIJ.70.4.2044775

Abstract :
In this contribution, the author argues that there are in our European tradition two fundamental conceptions of politics since the French Revolution. We can call them the politics as the art of co-existence, and the politics of dénouement. Both conceptions also have a very different stance towards the traditional religions: for the first one mentioned freedom of religion is constitutive, for the second one religion must serve the state or can even be made redundant. Paradigmatic in this respect was the communist treatment of religion as a relic of the past that will disappear when historic reason makes our society transparant (as a tragi-comic story of Milan Kundera shows). Here politics transforms in a quasi-eschatological political religion. In the twientieth century neo-marxist philosophers say farewell to this kind of politics and begin to rediscover religious inheritances and theological motives. Today two other positions towards religions are noticeable: the utilitaristic reductionist treatment of religion as a need (instead as a desire), and 'Enlightment fundamentalism' which continues the rationalist communist conception of religion as a relic of the past. The author criticises both tendencies, and defends a 'politics without dénouement' which correspondents to a 'religion without guarantee'. In closing the author argues that the recent populist politics (with The Netherlands as example) either dream of a new alliance between religion and/or 'culture' and the state, or – in a strange inversion of the multicultural ideals of the nineties – promote a purely polemical identity against an 'alien' religion, i.c. Islam. Here the author claims that both tendencies fail to recognize the real nature of the new problems.