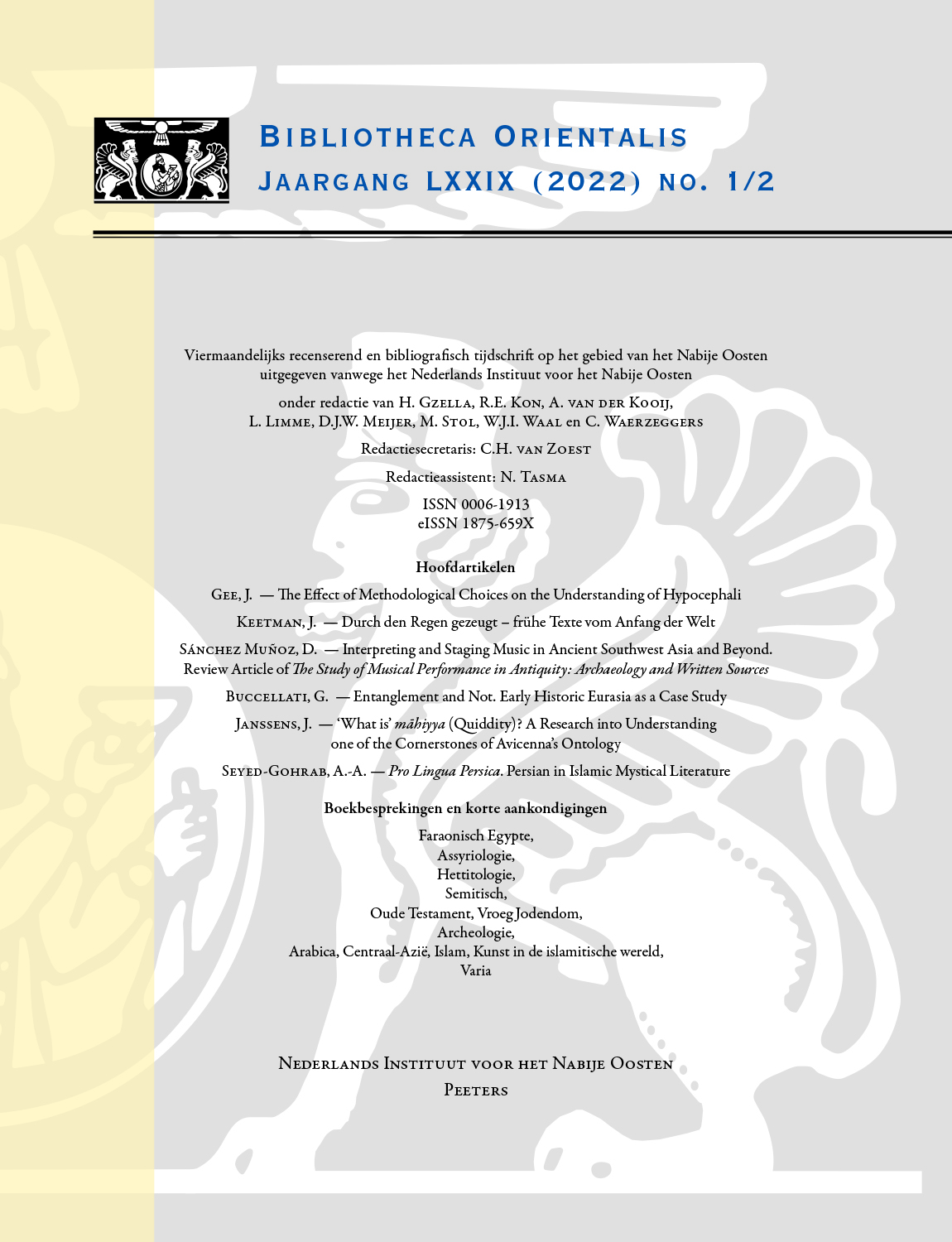 Document Details :

Title: Assyriologie
Author(s):
Journal: Bibliotheca Orientalis
Volume: 66 Issue: 3-4 Date: 2009
Pages: 263-300
DOI: 10.2143/BIOR.66.3.2044714

Abstract :
LION, B., MICHEL, C. (dir.) - De la domestication au tabou. Le cas des suidés au Proche-Orient ancien. (Travaux de la Maison René-Ginouvès). De Boccard, Paris, 2006.

VELDHUIS, N. - Religion, Literature, and Scholarship: the Sumerian Composition Nanše and the Birds, with a Catalogue of Sumerian Bird Names. (Cuneiform Monographs 22). Brill Academic Publishers, Leiden, 2004.

HEIMPEL, W. - Letters to the King of Mari. A New Translation, with Historical Introduction, Notes, and Commentary. (Mesopotamian Civilisations 12). Eisenbrauns, Winona Lake, 2003.

SCHWEMER, D. - Abwehrzauber und Behexung. Studien zum Schadenzauberglauben im alten Mesopotamien. Unter Benutzung von Tzvi Abuschs kritischem Katalog und Sammlungen im Rahmen des Kooperationsprojectes 'Corpus of Mesopotamian Anti-Witchcraft Rituals'. Verlag Otto Harrassowitz, Wiesbaden, 2007.

AZIZE, J., WEEKS, N. (eds.) - Gilgameš and the World of Assyria. Proceedings of the Conference held at the Mandelbaum House, The University of Sydney, 21-23 July 2004. (Ancient Near Eastern Studies Supplement 21). Peeters, leuven, 2007.

DUBOVSKÝ, P. - Hezekiah and the Assyrian Spies: Reconstruction of the Neo-Assyrian Intelligence Services and Its Significance for 2 Kings 18-19. (Biblica et Orientalia 49). Editrice Pontificio Istituto Biblico, Rome, 2006.

FINKEL, I.L., SEYMOUR, M.J. (eds.) - Babylon. Myth and Reality. British Museum Press, London, 2008.

BRIANT, P., JOANNÈS, F. (eds.) - La transition entre l'empire achéménide et les royaumes hellénistiques. (Persika 9). De Boccard, Paris, 2006.

BICHLER, R. - Historiographie - Ethnographie - Utopie. Gesammelte Schriften, Teil 1. Studien zu Herodots Kunst der Historie. Herausgegeben von Robert Rollinger. (PHILIPPIKA. Marburger altertumskundliche Abhandlungen 18,1). Verlag Otto Harrassowitz, Wiesbaden, 2007.

Korte aankondiging:
La ricchezza nel Vicino Oriente Antico. Atti del Convegno internazionale Milano, 20 gennaio 2007. (Centro Studi del Vicino Oriente, Collana 'Origini' 8). Edizioni Ares, Milano, 2008.


Download article