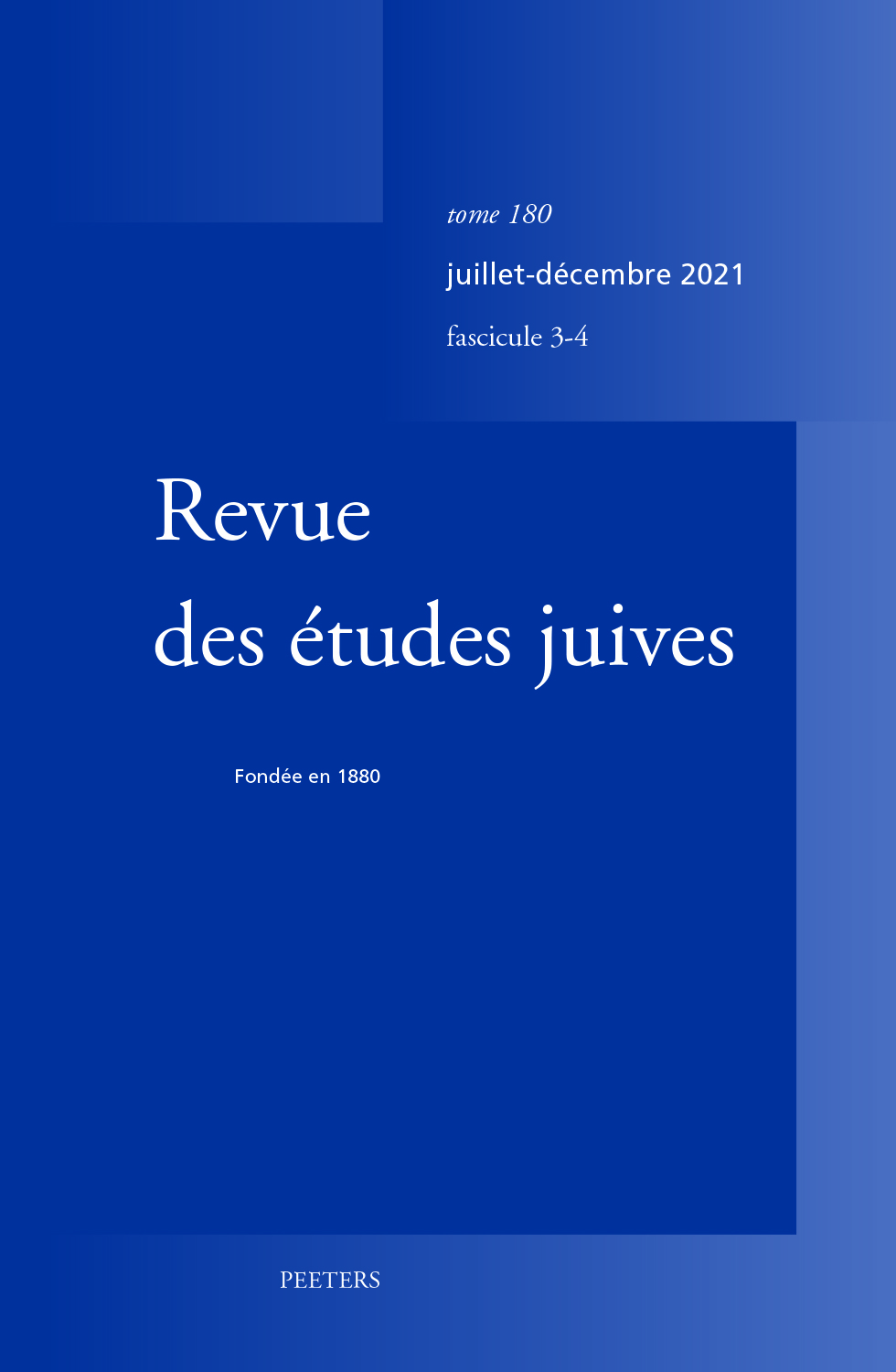 Document Details :

Title: Oral Language Traditions and Classical Hebrew
Subtitle: Phonological and Morphological Phenomena
Author(s): HENSHKE, Yehudit
Journal: Revue des Études Juives
Volume: 168 Issue: 1-2 Date: janvier-juin 2009
Pages: 181-194
DOI: 10.2143/REJ.168.1.2035306

Abstract :
The Hebrew component of Judeo-languages constitutes an important dimension in the historical study of the Hebrew language. It testifies to two, ostensibly conflicting, processes. On the one hand, the incorporation of Hebrew words into the spoken, non-Jewish, language creates neologisms; on the other, this component preserves traditions from earlier strata of postbiblical Hebrew. Based on manuscripts attesting to Mishnaic Hebrew, ethnic oral traditions, and other trustworthy witnesses, the latter phenomenon is examined through the prism of Tunisian Judeo-Arabic. In the realm of phonology, I note the preservation in Judeo-Tunisian of a penultimate stress characteristic of earlier Hebrew strata. Also treated here are the realization of the consonant waw as v alongside the vocalic realization of w, and the geminate resh. In the sphere of morphology, I cite examples from two categories witnessing earlier Hebrew traditions: plurals in the form -iyot (such as yeshiviyot), and pausal forms such as se'uda mafsaqet. Other forms attested in earlier traditions include: ḥomesh, kummar, afiqomen, and gehinnam, and the phrases 'eseṛ əd-dəbbṛot and tḥayat əm-mitim as well as the Aramaic words 'arubba and ma'al.


---

La présence de termes hébraïques dans les langues vernaculaires des communautés juives d'Afrique du Nord constitue un élément d'importance pour l'étude historique de la langue hébraïque. On repère en effet deux démarches a priori antithétiques. D'une part, au niveau oral des langues non juives, l'insertion de mots hébraïques entraîne la création de néologismes. Mais, d'autre part, ces apports étrangers à la langue locale ont permis de préserver les strates archaïques de l'hébreu post-biblique. Dans cet article, nous confrontons les langues vernaculaires d'Afrique du Nord aux traditions de lecture de la Thora, aux meilleurs manuscrits de la Mishna et autres documents d'époque dignes de foi. S'impose alors à nous la fidélité et la précision de la phonologie comme de la morphologie de l'hébreu intégré au judéo-arabe tunisien. Dans le champ de la phonologie, on remarque que l'accent tonique pénultième — caractéristique de l'hébreu ancien — perdure dans le judéo-tunisien. D'autres exemples viennent étayer notre thèse: ainsi le redoublement du resh et la consonne vav, le «v» se prononçant «w». Dans le champ de la morphologie, deux exemples témoignent de deux stades differents dans l'élaboration de l'hébreu ancien: l'emploi du pluriel «-iyot» (yeshiviyot), les formes pausales telles que (se'uda mafsaqet et non mafseqet). D'autres formes attestent des traditions plus anciennes de l'hébreu: ḥomesh, kummar, afiqomen, gehinnam ainsi que de mots araméens ('arubba, ma'al) et d'expressions ('eseṛ əd-dəbbṛot et tḥayat əm-mitim).


Download article