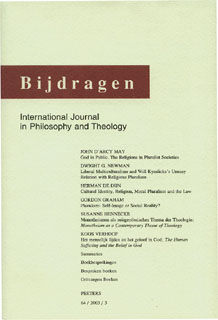 Document Details :

Title: Augustinus over vrijheid
Author(s): BOERMA, Willem
Journal: Bijdragen
Volume: 70 Issue: 1 Date: 2009
Pages: 28-44
DOI: 10.2143/BIJ.70.1.2035292

Abstract :
This article states that it is important for a debate on freedom and its consequences for constitutional state, to have a clear view of 'man and the world'. On the basis of Augustine's thoughts on the concept of 'man and the world' some important arguments for a debate on freedom and constitutional state are being outlined. On the basis of several texts of Augustine, human being should be seen as trinitarian imago dei. Man, characterised as such, consists even in its perverted condition of at least three foundational elements: an ontological relationality, an intrinsic need for the transcendent Good and a prominence for love/the will. These constituting elements of human being should be safeguarded in the situation of temporary peace we live in. This is the responsiblity of all human beings. The relevance of Augustine's view of man and the world is fourfold: freedom is freedom in dependence (of the Other and the other[s]). This concept is a warning against fundamentalism of any kind that holds a (politically translated) claim of truth without recognizing the importance of humility and the theological and historical facts of the imperfect. Secondly, the thought of Christ as 'just and justifying mysterium dei (Robert Dodaro, Christ and the just society, 109). The origin of morals lies not within human being itself, but is communicated by the incarnate Word: i.e. from a transcendent source. Superbia as leading actor for political leaders and human beings in general is a denial of constituting elements of what is means to be a 'human being'. Humilitas forms the only possible way for a society to make it really a society: a place where human beings really live together. Thirdly, a people cannot be defined merely on the basis of a legal definition. The ordo amoris is an imporant constituent element of human being and of society. Finally, the recognition of relationality and dialogue as givens. These elements belong to being a human being. Only in community is true freedom possible without denying each individual's unicity.