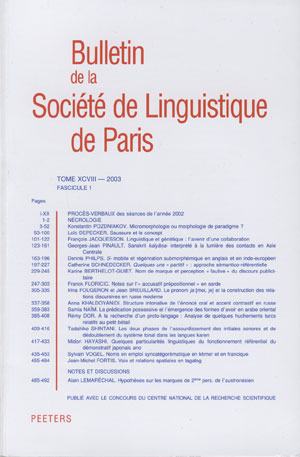 Document Details :

Title: Sémantique de ba n en khmer contemporain
Author(s): LEBAUD, Daniel , VOGEL, Sylvain
Journal: Bulletin de la Société de Linguistique de Paris
Volume: 103 Issue: 1 Date: 2008
Pages: 401-422
DOI: 10.2143/BSL.103.1.2033496

Abstract :
Le présent article traite des différents emplois du terme ba n en khmer contemporain et des valeurs interprétatives qui en découlent dans les énoncés. Les auteurs ont rassemblé, en prenant en compte de façon aussi exhautive que possible la distribution de ba n, un corpus riche et varié qui sert de base à l'établissement d'une hypothèse abstraite sur son fonctionnement.


---

This paper is about the syntax and the meaning of the item ba n in contemporary khmer. The authors have gathered a comprehensive corpus which has enabled them to establish the distribution of the term under scrutiny and to correlate its syntactical features and a general hypothesis on its functional properties with its contextual values.


---

El presente artículo trata de los diferentes empleos del término ba n en Khmer contemporáneo y de sus valores interpretativos que se derivan en los enunciados. Tomando en cuenta, de la manera más exhaustiva posible, la distribución de ba n, los autores han reunido un corpus extremadamente variado el cual sirve de base para establecer una hipótesis abstracta sobre su funcionamiento.


Download article