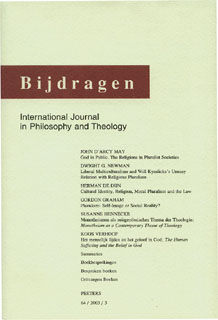 Document Details :

Title: Another Reference: Rome
Subtitle: A Comment on Nancy's Deconstruction of Christianity and his Thesis on the Impossibility of Civil Religion
Author(s): TERPSTRA, Marin
Journal: Bijdragen
Volume: 69 Issue: 3 Date: 2008
Pages: 264-284
DOI: 10.2143/BIJ.69.3.2033143

Abstract :
Nancy's deconstruction of Christianity is presented as a critical project within a specific horizon, in which specific references are frequently made to the ancient Greek and Jewish roots of Western philosophy. For Nancy, this means that philosophy should come to terms with its Christian background. Yet ancient Rome and its political culture, which are also very important to an understanding of the birth and development of Christianity, remain marginal in Nancy's deconstructive work. Understanding Christianity as an 'autodépassement' of the cultures it is based on, this article explores the transformation of civitas into civiatas Dei, which is mentioned but little elaborated upon by Nancy. The exploration takes as an example Augustine's treatment of Varro's Antiquitates, a main source of his knowledge concerning Roman religion and politics. Varro's texts are used and distorted by Augustine. The analysis in this article shows that the way in which is Christianity is deconstructed, changes by taking into account this other reference, particularly with regard to the way in which politics is conceptualised.