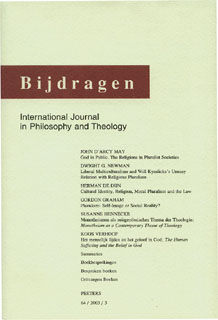 Document Details :

Title: Particular Churches - Universal Church
Subtitle: Theological Backgrounds to the Position of Walter Kasper in Debate with Joseph Ratzinger - Benedict XVI
Author(s): STRUYS, Kristof
Journal: Bijdragen
Volume: 69 Issue: 2 Date: 2008
Pages: 147-171
DOI: 10.2143/BIJ.69.2.2031571

Abstract :
The relationship between the universal and the particular church was the subject of a comprehensive public debate between two German bishop theologians, namely Joseph Ratzinger and Walter Kasper. The debate was initially occasioned by an official document issued by the Congregation for the Doctrine of the Faith on the church as communion (1992).
The debate has clearly exposed ecclesiology's complexities and tensions. Ratzinger taps biblical and theological sources in order to valorise unity or universality in an era of (too) farreaching pluralisation. His argumentation culminates in an endeavour to counter unilateral and horizontal ecclesiologies with an axiomatic 'ontological and temporal primacy of the universal church over the particular churches'.
Kasper recognizes genuine dangers in the one-sided 'horizontalisation' and fragmentation of ecclesiology. Rooted in his pastoral and oecumenical experience, he is of the opinion that the theological space created by Vatican II for the particular churches and the diocesan bishops should be claimed to the full. He detects a centralistic deformation of Vatican II in Ratzinger's axiom. For Ratzinger Kasper's standpoint can be the first step in an empirical reduction of ecclesiology.
In this contribution, I have tried to demonstrate that Kasper's ecclesiological perspective cannot be suspected of 'de-theologisation'. Indeed, 're-theologisation' can be understood as the central theme of his theology. The problem of determining the relationship between the universal church and the particular churches is given concrete form in the problem of determining the relationship between the office of bishop, the college of bishops in union with the pope, and the Petrine office. Kasper's insistence on a legitimate degree of latitude for diocesan bishops does not imply that his goal is to decentralise the Petrine office both theologically and pastorally. At a certain moment in the debate, both theologians recognized that their differing perspectives were more a matter of theological opinion than of essential doctrinal conflict. Their mutual support of the idea of the 'priority of internal unity' is a crucial and unmistakable key concept for the correct understanding of the debate.