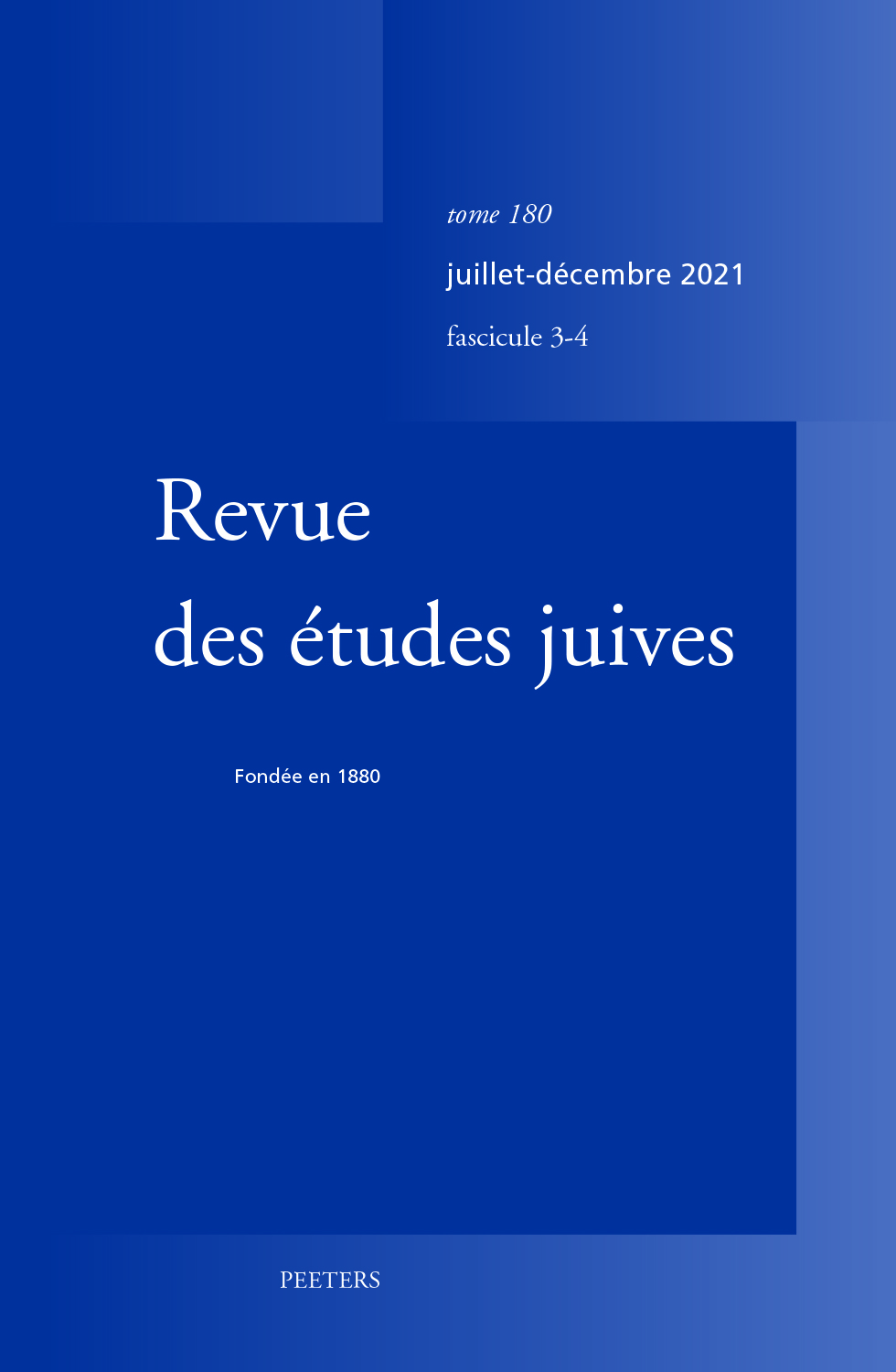 Document Details :

Title: Isaac de la Perèyre interprète de Paul
Subtitle: Pourquoi le Rappel des Juifs a-t-il été presque entièrement détruit au moment de sa publication?
Author(s): PARENTE, Fausto
Journal: Revue des Études Juives
Volume: 167 Issue: 1-2 Date: janvier-juin 2008
Pages: 169-186
DOI: 10.2143/REJ.167.1.2030858

Abstract :
Dans cette article, on cherche à donner une explication de la soudaine disparition de presque toutes les copies du Rappel des Juifs, publié par Isaac de La Peyrère en 1643 sans nom d'auteur ni d'éditeur. L'ouvrage de La Peyrère est une exercitatio (c'est-à-dire un essai d'exégèse théologique) sur le chapitre 11 de la Lettre de Paul aux Romains. Dans ce chapitre, Paul dit que l'endurcissement d'Israël est provisoire, rentre dans le plan divin et a permis l'accès des païens au salut. La Peyrère parle aussi d'une mission du roi de France qui doit ramener les Juifs après leur convension (le «Rappel») dans la terre promise. C'est peut-être aussi pour cette raison que le livre suscita une réaction immédiate de la part des autorités françaises qui avaient déjà empêché la publication d'un autre ouvrage de La Peyrère, mais c'est surtout à cause de l'acceptation totale et inconditionnelle du texte de Paul qui documente une attitude chrétienne face au judaïsme tout à fait différente et opposée à celle qui prévalut après la destruction du Temple de Jérusalem en 70 après J.-C., interprétée comme la punition divine pour la mort de Jésus, tué non par les Romains, mais par les Juifs qui avaient de la sorte perdu le droit même à l'existence.


---

This paper aims to explain the sudden disappearence of almost all the copies of Du Rappel des Juifs, published by Isaac de La Peyrère in 1643 anonymously and without the name of the printer. La Peyrère's work was an exercitatio (i.e. an essay of theological exegesis) on the eleventh chapter of Paul's Letter to the Romans. In this chapter Paul presents Israel's dulling as provisional because it is part of God's plan to bestow grace also on the Gentiles. La Peyrère speaks also about a mission reserved to the King of France who should bring again the Jews to the promised land after their conversion (the "Rappel"). It was, perhaps, also for this reason that the book aroused the French authorities' prompt reaction, after their forbidding publication of another work by Peyrère, but the main cause was La Peyrère's unreserved agreement with Paul's text which documents quite a different Christian position towards Judaism, indeed in explicit with the attitude prevailing after the destruction of the Temple of Jerusalem in A.D. 70, regarded as a divine punishment for Jesus' murder not at the hands of the Romans, but rather of the Jews who consequently lost any right ever even to survival.


Download article