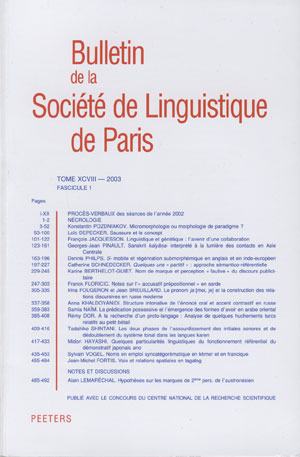 Document Details :

Title: S/Z ou les infortunes du XIX
Author(s): FOREST, Robert
Journal: Bulletin de la Société de Linguistique de Paris
Volume: 102 Issue: 1 Date: 2007
Pages: 435-439
DOI: 10.2143/BSL.102.1.2028212

Abstract :
L'article fait état de la prononciation avec [s] dévoisé du numéral dix-neuf par un nombre croissant de francophones de France. Ce début de changement, phonologique, aboutit à un allophone en /-s/ devant consonne dans le micro-système des composés en dix-. Aucune pression systémique ne semble à l'origine de cette évolution.


---

This article states the pronunciation with unvoiced [s] of the numeral dix-neuf by a growing number of French speakers in France. This initiated change, which is phonological, results in an /-s/ allophone before consonant in the micro-system of dix-compounds. There seems to be no systemic constraint giving rise to this evolution.


---

Dieser Artikel stellt die Aussprache mit stimmlosem [s] des Zahlworts dix-neuf durch eine wachsende Anzahl Französischsprachiger in Frankreich fest. Dieser ansatzweise phonologische Wandel läuft auf ein vorkonsonantisches /-s/-Allophon im Mikrosystem der dix-Komposita hinaus. Kein Systemdruck scheint diese Entwicklung veranlasst zu haben.


Download article