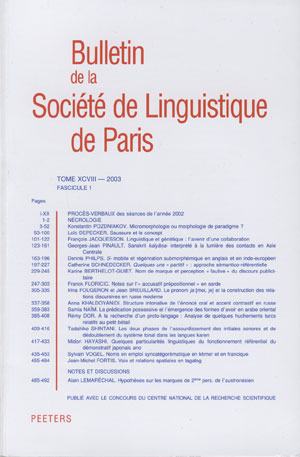 Document Details :

Title: Les adverbes latins selon les mécanismes de leur mise en relief
Author(s): ROSÉN, Hannah
Journal: Bulletin de la Société de Linguistique de Paris
Volume: 102 Issue: 1 Date: 2007
Pages: 155-172
DOI: 10.2143/BSL.102.1.2028202

Abstract :
En plus des classements traditionnels de l'adverbe, fondés sur des critères d'ordre morphologique, syntaxique et sémantique, on peut appliquer une classification selon les mécanismes divers qui servent à mettre des adverbes et adverbiaux en relief: des phrases clivées «classiques»; des phrases clivées qui sont liées par des variantes de mode d'action du verbe d'existence ou par le pro-verbe facere; clivage affectant l'apodose associée à une subordonnée conditionnelle, temporelle ou relative; et rattachement par épitaxe. Ces outils syntaxiques, et aussi, subsidiairement, des particules, qui se trouvent tous en distribution presque complémentaire, affinent les groupements existants et dégagent des différentiations syntaxiques et sémantiques additionnelles de l'adverbe latin.


---

In addition to the traditional classifications of the internally heterogeneous group adverbs, hinging on morphological, syntactic and semantic criteria, we consider a further classificatory dimension, namely the mechanisms that serve to highlight adverbs and adverbials: «classic» cleft sentences; cleft sentences with Aktionsart-variants of the verbum existentiae and with the pro-verb facere; clefting with apodosis to subordinate conditional, temporal and relative clauses; appendage by epitaxis. These syntactic tools, and along with them, subsidiarily, particles, all in a nearly perfect complementary distribution, fine-tune the existing classifications and yield further syntactic and semantic distinctions of the Latin adverb.


---

Ergänzend zu den traditionellen Einteilungen der in sich heterogenen Gruppe der Adverbien, die auf morphologischen, syntaktischen und semantischen Kriterien beruhen, wird hier eine weitere Art der Klassifikation betrachtet, nämlich die Mechanismen, die der Hervorhebung von Adverbien und Adverbialen dienen: «klassische» Spaltsätze; Spaltsätze mit Aktionsartvarianten des verbum existentiae und dem Pro-Verb facere; Clefting mit Apodosis zu subordinierten Konditional-, Temporal- und Relativsätzen; Anbindung durch Epitaxe. Diese syntaktischen Mittel, und ersatzweise eingesetzte Partikeln, die alle miteinander in fast perfekter komplementärer Distribution stehen, verfeinern die bestehenden Klassifikationen und ergeben zusätzliche syntaktische und semantische Differenzierungen für das lateinische Adverb.


Download article