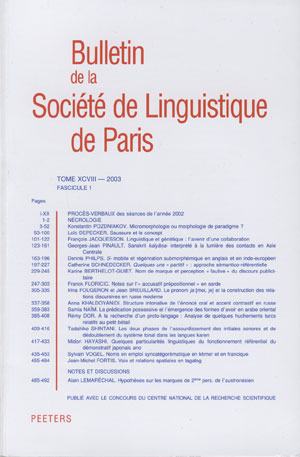 Document Details :

Title: Parties du discours et personne
Author(s): DE CARVALHO, Paulo
Journal: Bulletin de la Société de Linguistique de Paris
Volume: 102 Issue: 1 Date: 2007
Pages: 35-56
DOI: 10.2143/BSL.102.1.2028198

Abstract :
On présente ici un projet de réélaboration des «parties du discours», fondé sur une discussion critique de la théorie de Gustave Guillaume, laquelle, on le sait, s'enracine dans le contraste, supposé primitif, des catégories de l'Espace et du Temps. On s'attachera, au contraire, à montrer que ce contraste est, déjà, un résultat d'une intuition primaire, radicale, validée par un grand nombre de langues, parmi lesquelles, notamment, celles de la famille indo-européenne. Cette intuition est qu'il y a lieu de distinguer, dans l'univers tel qu'on le conçoit, d'un côté ce qui ne passe pas — autrement dit: ce qui paraît doué d'existence permanente, au-delà de l'expérience locutive du moment — et de l'autre ce qui paraît n'exister que dans l'exact moment où cela s'offre à la perception: ce qui passe, et se passe. Or cela suppose un point de vue, un centre de référence, capable de perception, et ce ne peut être que la personne humaine dont le prototype est le sujet parlant en tant qu'il parle, projetant, par empathie, sur le matériau livré par l'expérience, l'image de sa propre discontinuité temporelle, de sa précarité. Une conséquence, parmi d'autres, de cette intuition fondatrice est la nécessité de distinguer deux grandes classes de vocables nominaux, selon qu'ils se rapportent à l'avant de l'événement locutif, ou bien à l'après de celui-ci, et à son contenu temporel (formes verbonominales, dérivés abstraits «nomino-verbaux», et «nomino-adjectivaux»).


---

This paper suggests a new approach to the concept of "parts of speech", based on a critical discussion of Gustave Guillaume's theory, which, as it known, is derived from the assumption of a contrast between Space and Time as primitive categories. A radically opposite view is suggested here: such a contrast is actually the result of a radical, primitive, discrimination, which is patent in a vast number of languages — including, obviously, languages of the Indo-European family. The rationale is the following: there exists, in the universe as we perceive it, occurrences which we intuitively expérience as having a permanent existance of their own, beyond the event of the moment — what does not pass — and, conversely, what seems to exist only at the very moment it is perceived: that which happens and passes. This presumes the existence of a viewpoint, a reference centre, which is capable of perception — and that is necessarily the human person, whose prototype is he who speaks, as he speaks, and who projects, by empathy, on the material provided by his experience, the image of his own temporal discontinuity or precariousness. One of the major consequences of this assumption is the necessity to make a difference between two major classes of nouns, depending on whether they are perceived as occurring prior to the locutory event ("nouns" proper (...), substantives and adjectives), or after the locutory event, as subsequent to it, including the temporal content wich they embody: verb nominal forms (participles, gerunds) and abstract derivatives. Last but not least, the proposed model suggests a streamlined and rigorous redefinition, in "enunciative" terms, as it were, of pronouns as a unified category.


---

Apresenta-se aqui um projeto de reelaboração das «partes do discurso», baseada numa discussão crítica da teoria do linguista Gustave Guillaume, a qual, como se sabe, tem por fundamento o contraste supostamente primitivo das categorias do Espaço e do Tempo. Ao contrário, o que se pretende expor é que êsse contraste é, já, um resultado de uma discriminação primária, radical, consagrada por um grande número de línguas — entre as quais, naturalmente, as da família indo-européia — a saber: há, no universo tal qual o representamos, o que se concebe, intuitivamente, como dotado de existência permanente, para além da experiência do momento — o que não passa — e, ao invés, há o que parece só existir no próprio tempo em que se oferece à percepção: o que passa e se passa. Ora isto supõe um ponto de vista, e centro de referência, que seja capaz de percepção, e êste é, necessáriamente, a pessoa humana, cujo prototipo é o falante enquanto fala — o "falante falando", e projetando, por empatia, no material fornecido pela experiência, a imagem da sua própria discontinuidade temporal, ou precariedade. Consequência, entre outras, dessa maneira de ver é a necessidade de distinguir duas grandes classes de vocábulos nominais, segundo se concebam como anteriores ao evento locutivo, ou, ao contrário, como posteriores a êsse evento e au conteúdo temporal que o constitui (formas verbonominais, derivados abstratos "nomino-verbais" e "nomino-adjectivais").


Download article