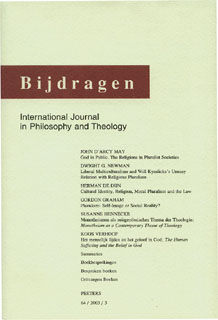 Document Details :

Title: Dilthey's fenomenologie van de metafysica
Author(s): VERRYCKEN, Koenraad
Journal: Bijdragen
Volume: 68 Issue: 4 Date: 2007
Pages: 423-444
DOI: 10.2143/BIJ.68.4.2023986

Abstract :
The paper tries to develop some of the main characteristics of Dilthey's "phenomenology of metaphysics" in the second part of the Einleitung in die Geisteswissenschaften. It is argued that we have to understand this phenomenology as an attempt to go beyond both Kant's and Comte's criticism of metaphysics. According to Dilthey the core of all metaphysics is its ideal of a logical coherence of the world: in contrast to modern science, Dilthey says, metaphysics is based on the conviction that there is an objective and internal coherence of reality behind the phenomena. Even if this coherence is reduced to its minimal form, that is to the combination of substantiality and causality, even then, Dilthey argues, it constitutes a projection of the living unity of human consciousness into extramental reality, and this prevents metaphysics from being science. Gradually the Christian metaphysics of the Middle Ages has been replaced by science, both in our knowledge of nature and in our knowledge of our spiritual self. Consequently metaphysics as a scientific project is for Dilthey a historical phenomenon, which irrevocably belongs to the past. The apparent completion of metaphysics in the 'private metaphysical systems" of the Modern Age is in fact, Dilthey claims, the "euthanasia" of metaphysics, its unconscious noble and gentle suicide. For they conceive nature as a "colossal fantastic reflection of the metaphysician's own self", and in that way achieve a complete transformation of objective into subjective reality. By so doing, however, metaphysics destroys itself at the very moment of the complete fulfilment of its task. In the systems of Leibniz, Hegel etc. the old ideal of a total understanding of the world is apparently realised. But at the same time this means, according to Dilthey, that objective reality as such no longer exists. The total disclosure of the metaphysical secret is for Dilthey nothing else but the disclosure of the illusory nature of all metaphysics.