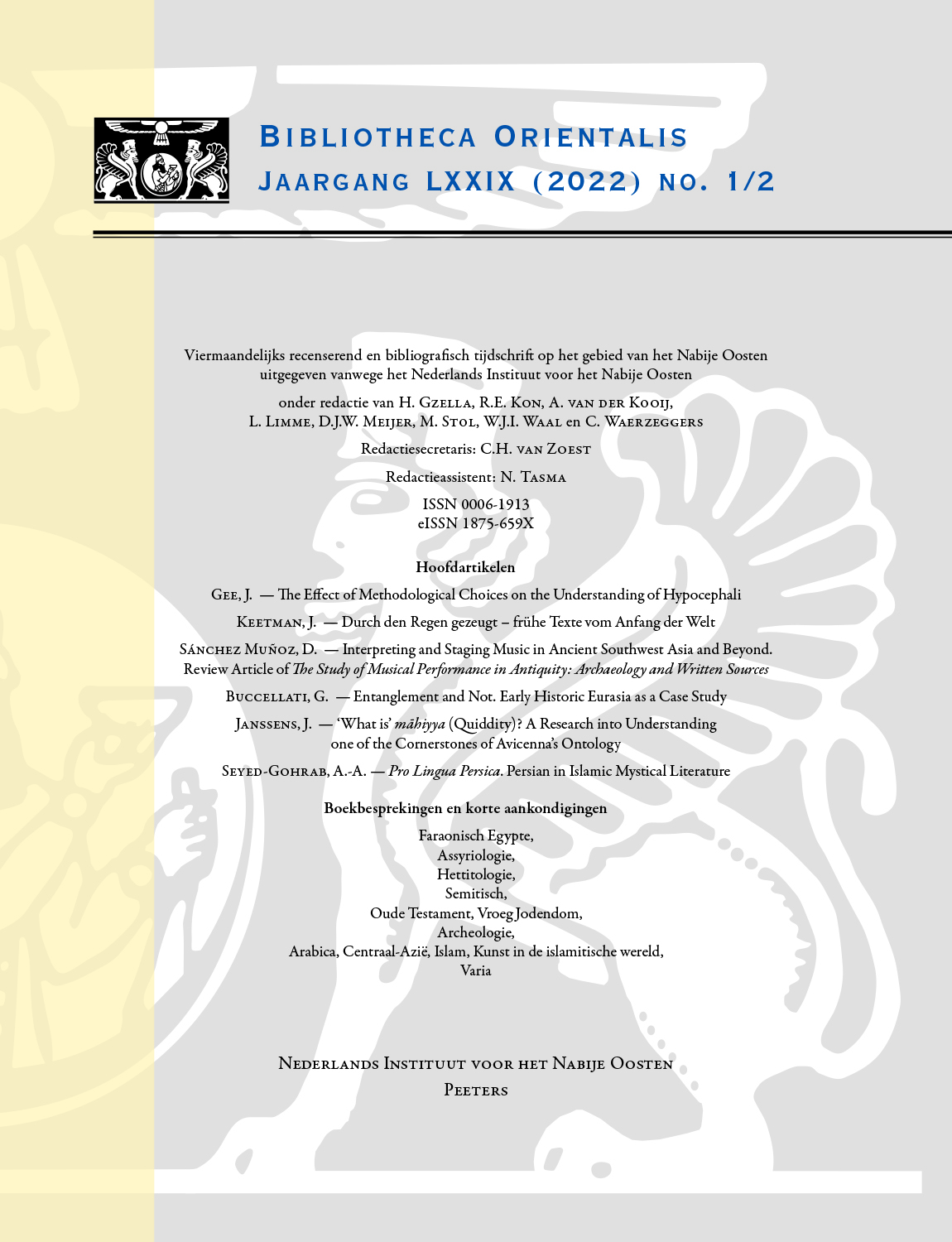 Document Details :

Title: Varia
Author(s):
Journal: Bibliotheca Orientalis
Volume: 64 Issue: 3-4 Date: 2007
Pages: 492-502
DOI: 10.2143/BIOR.64.3.2023961

Abstract :
Approches de l'économie hellénistique. (Entretien d'archéologie et d'histoire 7). Musée Archéologique Departemental, Saint-Bertrand-de-Comminges, 2006.

LOUDEN, B. - The Iliad. Structure, Myth, and Meaning. The Johns Hopkins University Press, Baltimore, 2006.

Korte aankondigingen:
GRAF, G. - Christlicher Orient und schwäbische Heimat. Kleine Schriften. Band I und II. Anlässlich des 50. Todestag des Verfassers neu herausgegeben und eingeleitet von Hubert Kaufhold. (Beiruter Texte und Studien Band 107a+b). Ergon, Würzburg, 2005.

PICCIRILLO, M. (ed.) - Registrum Equitum SSmi Sepulchri Domini Nostri Jesu Christi (1561-1848). Manoscritti dell'Archivio Storico della Custodia di Terra Santa a Gerusalemne. (Studium Biblicum Franciscanum, Collectio Maior 46). Custodia Terra Santa, Jerusalem-Milano, 2006.

CINGANO, E., GHERSETTI, A., MILANO, L. - Animali tra zoologia, mito e letteratura nella cultura classica e orientale. Atti del Convegno Venezia, 22-23 maggio 2002. Sargon Editrice e Libreria, Padova, 2005.

JONGELING, K. and KERR, R.M. - Late Punic Epigraphy. An Introduction to the Study of the Neo-Punic and Latino-Punic Inscriptions. J.C.B. Mohr (Paul Siebeck) Verlag, Tübingen, 2005.

WERNER, H. - Die Welt der Jenissejer im Lichte des Wortschatzes. Zur Rekonstruktion der jenissejischen Protokultur. (Veröffentlichungen der Societas Uralo-Altaica 69). Verlag Otto Harrassowitz, Wiesbaden, 2006.


Download article