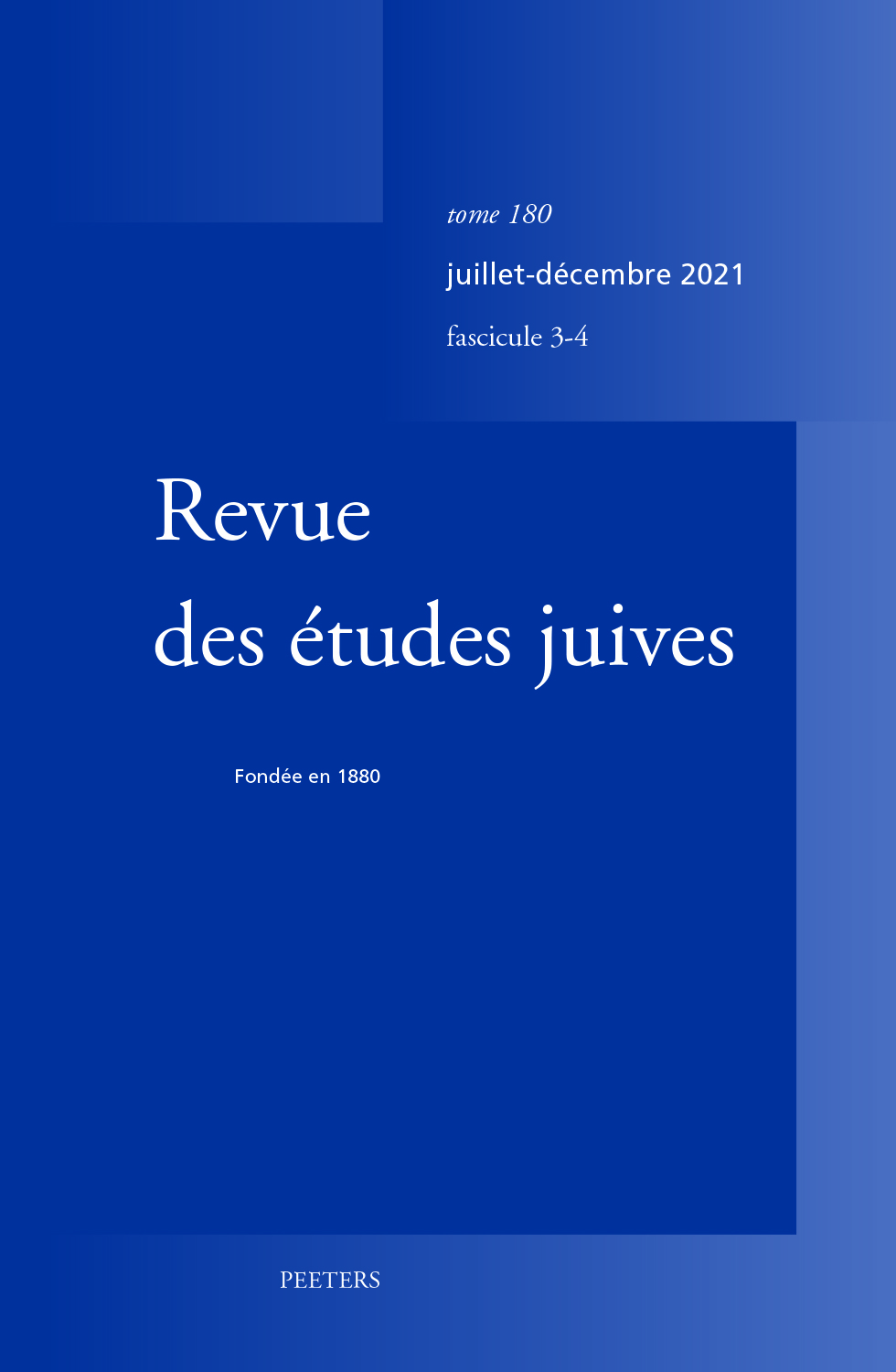 Document Details :

Title: Veille et sommeil d'Israël
Subtitle: Le rite oublié de la veillée pascale dans la tradition juive
Author(s): KRYGIER, Rivon
Journal: Revue des Études Juives
Volume: 166 Issue: 1-2 Date: janvier-juin 2007
Pages: 59-89
DOI: 10.2143/REJ.166.1.2020277

Abstract :
La veillée nocturne et plus généralement, la résistance au sommeil, a été considérée dans diverses traditions comme une épreuve initiatique contre la mort et une forme d'accession à l'immortalité. Un tour d'horizon dans les sources rabbiniques à travers les âges montre que le franchissement de cette épreuve comporte une dimension messianique en ce qu'il dénote une action théurgique visant à «réveiller» la divinité de sa torpeur, c'est-à-dire à l'extirper hors de la retraite céleste dans laquelle elle se confine, pour déployer son action dans le monde. Nous cherchons à démontrer qu'à la racine de certaines pratiques tardives de veillée, telles le Tikkoun de Chavouôt, prévalait une vigile ancestrale tout au long de la nuit de Pâques dans le but d'atteindre l'aurore en plénitude d'éveil et de réactualiser la rédemption au lever du jour, en conformité avec le temps critique de la sortie d'Égypte. Ce rite oublié et même occulté par une réforme rabbinique initiée à Yavné au IIe siècle a laissé néanmoins de nombreuses traces. Hormis les sources talmudiques éparses, les premiers auteurs chrétiens s'exprimant au travers des évangiles, apocryphes et littérature patristique en sont des témoins de première main. À rebours, la pratique ancestrale juive éclaire le mystérieux épisode évangélique du reniement de Pierre.


---

Keeping awake at night, and avoiding sleep in general have been considered by many traditions to constitute rites of passage in the struggle against death and achieving immortality. An overview of rabbinical sources across the ages shows that enduring this trial has a messianic significance: it's a theurgic act whose proponent seeks to wake God from his torpor, pull him out of the heavenly retreat to which He has restrained himself so that He may take action in the world. The article seeks to demonstrate that later practices of night of Vigil (Tikun) like Shavuot had their origin in a tradition of staying awake for the entire night of Passover to greet the dawn fully awake and to re-experience redemption with the break of day, just as in the critical moment of beginning Exodus from Egypt. This forgotten rite, probably over-shadowed by a rabbinical reform in Yavneh in the 2nd century, has nevertheless left behind numerous traces. Besides sparse Talmudic sources, the earliest Christian authors, writing in Gospels, Apocrypha and Patristic literature provide firsthand witnesses. This ancient Jewish practice sheds light on the mysterious gospel's episode of Peter's denial.


Download article