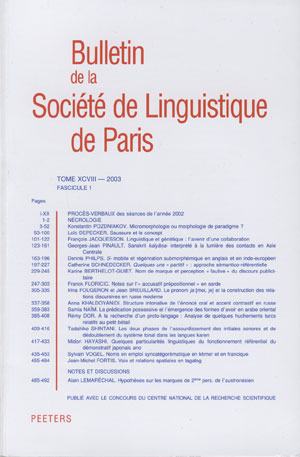 Document Details :

Title: Les rôles sémantiques comme prédicats
Author(s): LEHMANN, Christian
Journal: Bulletin de la Société de Linguistique de Paris
Volume: 101 Issue: 1 Date: 2006
Pages: 67-88
DOI: 10.2143/BSL.101.1.2019822

Abstract :
Cet article se donne pour objectif de contribuer à l'explicitation de la notion de rôle sémantique. Comme il est bien connu, les relateurs casuels peuvent naître par la grammaticalisation de coverbes. Ces constructions nous font entendre mieux les procédés sémantiques. On distinguera deux niveaux de rôles sémantiques:
-celui des classes de situations et de prédicats qui leur correspondent — comme mouvement, transmission, communication etc. —, dans lesquelles les participants reçoivent des rôles génériques tels qu'actor, undergoer, but etc.
-celui d'un prédicat individuel comme fendre à partir duquel il est attribué aux participants des rôles spécifiques, ainsi de fendeur et fendu. Ces rôles sont spécifiés par le contenu lexical du verbe.
Dans une situation complexe comme je fends le bois en utilisant une hache, il y a deux prédicats, un prédicat central (fendre) et un prédicat latéral (utiliser). Si ce dernier se grammaticalise, son contenu lexical se réduit, il devient un prédicat élémentaire et, en dernière analyse, un relateur casuel. Ce faisant, ses rôles sémantiques spécifiques deviennent à leur tour génériques. Il en résulte qu'un rôle sémantique périphérique d'un prédicat central, ici l'instrument de fendre, est le rôle sémantique spécifique d'un prédicat élémentaire qui lui sert de prédicat latéral. Cette conception sera démontrée à partir d'exemples empruntés au japonais, au chinois et à d'autres langues.


---

The paper is meant as a contribution to the explicitation of the notion 'semantic role'. As is well known, case relators may originate by the grammaticalization of coverbs. These constructions help us understand better the semantic processes involved. Two levels of semantic roles are distinguished:
-the level of situation classes and of predicates corresponding to them — like movement, transfer, communication etc. —, in which participants receive generic roles like actor, undergoer, goal etc.;
-the level of an individual predicate like cleave, which assigns to its participants specific semantic roles like cleaver and cleft. These roles are specified by the lexical content of the verb.
In a complex situation like I cleave the wood using an axe, there are two predicates: a central predicate (cleave) and a lateral predicate (use). If the latter is grammaticalized, its lexical content is reduced, it becomes an elementary predicate and, finally, a case relator. In the course, its specific semantic roles become generic. From this it follows that a peripheral semantic role of a central predicate — here the instrument of cleave — is the specific semantic role of an elementary predicate that serves that predicate as a lateral predicate. This conception is demonstrated on the basis of examples taken from Japanese, Mandarin and other languages.


---

Der Aufsatz ist ein Beitrag zur Explikation des Begriffs' semantische Rolle'. Bekanntlich können Kasusrelatoren durch Grammatikalisierung von Koverben entstehen. Diese Konstruktionen lassen die involvierten semantischen Prozesse besser verstehen. Es sind zwei Ebenen semantischer Rollen zu unterscheiden:
-die Ebene der Situationsklassen und der ihnen entsprechenden Prädikate — wie Bewegung, Transport, Kommunikation usw. —, wo den Partizipanten generische Rollen wie Actor, Undergoer oder Ziel zugewiesen werden;
-die Ebene des jeweiligen Prädikats, z.B. spalten, wo den Partizipanten spezifische semantische Rollen, hier die eines Spalters und eines Gespaltenen, zugewiesen werden.
In einer komplexen Situation wie ich spalte das Holz unter Verwendung einer Axt gibt es zwei Prädikate: ein zentrales Prädikat (spalten) und ein laterales Prädikat (verwenden). Wenn das letztere grammatikalisiert wird, wird sein lexikalischer Gehalt reduziert, es wird ein elementares Prädikat und schließlich ein Kasusrelator. Daraus folgt, dass eine periphere semantische Rolle eines zentralen Prädikats — hier das Instrument von spalten — die spezifische semantische Rolle eines elementaren Prädikats ist, die dem zentralen als laterales Prädikat dient. Diese Konzeption wird anhand von Beispielen aus dem Japanischen, dem Chinesischen und anderen Sprachen dargetan.


Download article