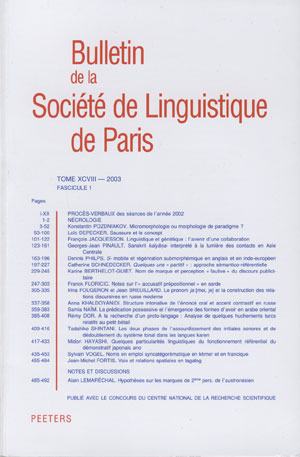 Document Details :

Title: Qu'est-ce qu'une langue?
Author(s): LAZARD, Gilbert
Journal: Bulletin de la Société de Linguistique de Paris
Volume: 101 Issue: 1 Date: 2006
Pages: 1-28
DOI: 10.2143/BSL.101.1.2019820

Abstract :
C'est par la typologie, dit Hjelmslev, que la linguistique peut devenir une science. Elle ne peut y parvenir sans disposer d'une idée claire de son objet, la langue. Le besoin de clarification théorique se fait aujourd'hui largement sentir en typologie et en linguistique en général. On réexamine dans cet article la définition saussurienne de la langue, souvent oubliée ou mal comprise. La langue, selon Saussure, est une forme, non une substance: elle n'est autre chose qu'un double réseau de frontières. Cette conception a d'importantes conséquences pratiques pour la description des langues, pour leur comparaison en vue de découvrir des invariants et pour une juste représentation de la nature de ces invariants. Elle éclaire aussi et précise les rapports entre la linguistique et les disciplines voisines et elle ouvre la voie vers une science des langues plus assurée.


---

Hjelmslev said that it is through typology that linguistics can become a science. For this aim to be achieved, linguists must have in mind a clear idea of what kind of object a language is. The need for theoretical clarification is at present widely felt in typology and in linguistics in general. In this article the Saussurean definition of a language, often forgotten or misunderstood, is revisited. According to Saussure a language is a form, not a substance: it is nothing else but a twofold net of frontiers. This conception has important practical consequences for the description of languages, for their comparison in order to discover cross-linguistic invariants, and for a right view of the nature of those invariants. It also highlights and specifies the relationships between linguistics and neighbouring disciplines, and it opens a path towards a more secure science of languages.


---

Durch Typologie, sagte Hjelmslev, kann Linguistik eine Wissenschaft werden. Um dieses Ziel zu erreichen, muss sie sich über ihr Objekt, nämlich die Sprache, im Klaren sein. In der Typologie und in der Sprachwissenschaft im Allgemeinen, wird heute das Bedürfnis nach theoretischer Klärung weitgehend empfunden. In diesem Artikel wird die oft vergessene oder missverstandene Saussure's Auffassung der Sprache untersucht. Nach Saussure ist die Sprache eine Form und nicht eine Substanz: eine Sprache ist nichts anderes als ein Doppelnetz von Grenzen. Diese Auffassung hat wichtige praktische Folgen für die Beschreibung der Sprachen und deren Vergleich, im Hinblick auf die Entdeckung von Invarianten, sowie für eine richtige Vorstellung vom Wesen dieser Invarianten. Sie beleuchtet und präzisiert auch die Beziehungen zwischen der Linguistik und ihren Nebenfächern, und damit bricht sie einer echten Wissenschaft der Sprachen Bahn.


Download article