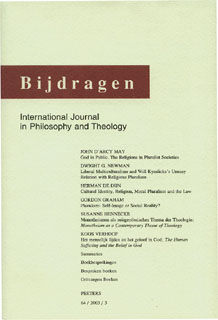 Document Details :

Title: Is there a Theological Mode of Apperception in Kant?
Subtitle: The Quest for Personal Identity in Ethical Perspective
Author(s): KULANGARA, Georges
Journal: Bijdragen
Volume: 68 Issue: 1 Date: 2007
Pages: 26-43
DOI: 10.2143/BIJ.68.1.2019442

Abstract :
The identity of the self is a theme recurringly investigated in the theoretical, moral and religious writings of Kant. It shows that personal identity has logical, moral and even religious bearings. At the speculative level, the transcendental principle of apperception becomes the hinge of identity for the self which is otherwise scattered among the disparate and multicoloured representations. At the practical level, the transcendental principle of unity in the use of freedom, namely, the moral law, takes over the unifying function. Even here, the unity of a singular substance eludes the individual because the moral apperception, i.e., the 'I will the moral law' that should accompany all one's willing is not a constant experience. This problem is expounded by the notion of evil which brings in the unbridgeable gap between the 'ought' and 'can' as well as between a person's intelligible maxim and sensible deeds. The fragmentariness of one's moral nature is sought to be resolved in the religious realm. We have ample substantiating evidences to show that it is by envisaging a theological mode of apperception according to which God transcendentally accompanies all instances of a person's willing, that Kant finally shows that a person can be one integral being.