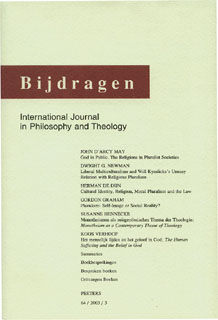 Document Details :

Title: Verdringing of samenstelling? - Repression of Composition?
Subtitle: Lyotard en Nancy over de trait d'union tussen 'joods' en 'christelijk' - Lyotard and Nancy on the Hyphen between 'Jewish' and 'Christian'
Author(s): VAN PEPERSTRATEN, Frans
Journal: Bijdragen
Volume: 67 Issue: 4 Date: 2006
Pages: 424-445
DOI: 10.2143/BIJ.67.4.2017994

Abstract :
In his book La déclosion (2005), devoted to the deconstruction of Christianity, Jean-Luc Nancy discusses, among other things, the relationship between Judaism and Christianity. In this discussion, Nancy explicitly refers to a book by Jean-François Lyotard: Un trait d'union (1993).
The views of Lyotard and Nancy are particularly comparable because both examine a very early figure in the historical development of Christianity: whereas Lyotard focuses on the Epistles of Paul, Nancy gives an interpretation of the Epistle of James. Lyotard concludes that the hyphen we nowadays still encounter in the expression 'Judeo-Christian' actually represses 'the most impenetrable abyss within Western thought'. This is the abyss which, in Lyotard's view, is the point of departure of Judaism, for Judaism departs from an event in which a Voice has left behind unvoiced letters, inaugurating an interminable work of interpretation. Nancy, however, considers the relationship between Judaism and Christianity to be a composition with a gap in its center, which, according to him, is a characteristic feature of Western culture in general.
James, as Nancy sees it, emphasizes work rather than the content of religion, such that existence is structured as inadequate to itself. Given this view on existence, Nancy seems to deny that there is an 'impenetrable abyss' and, therefore, that there is a fundamental difference between Judaism and Christianity.