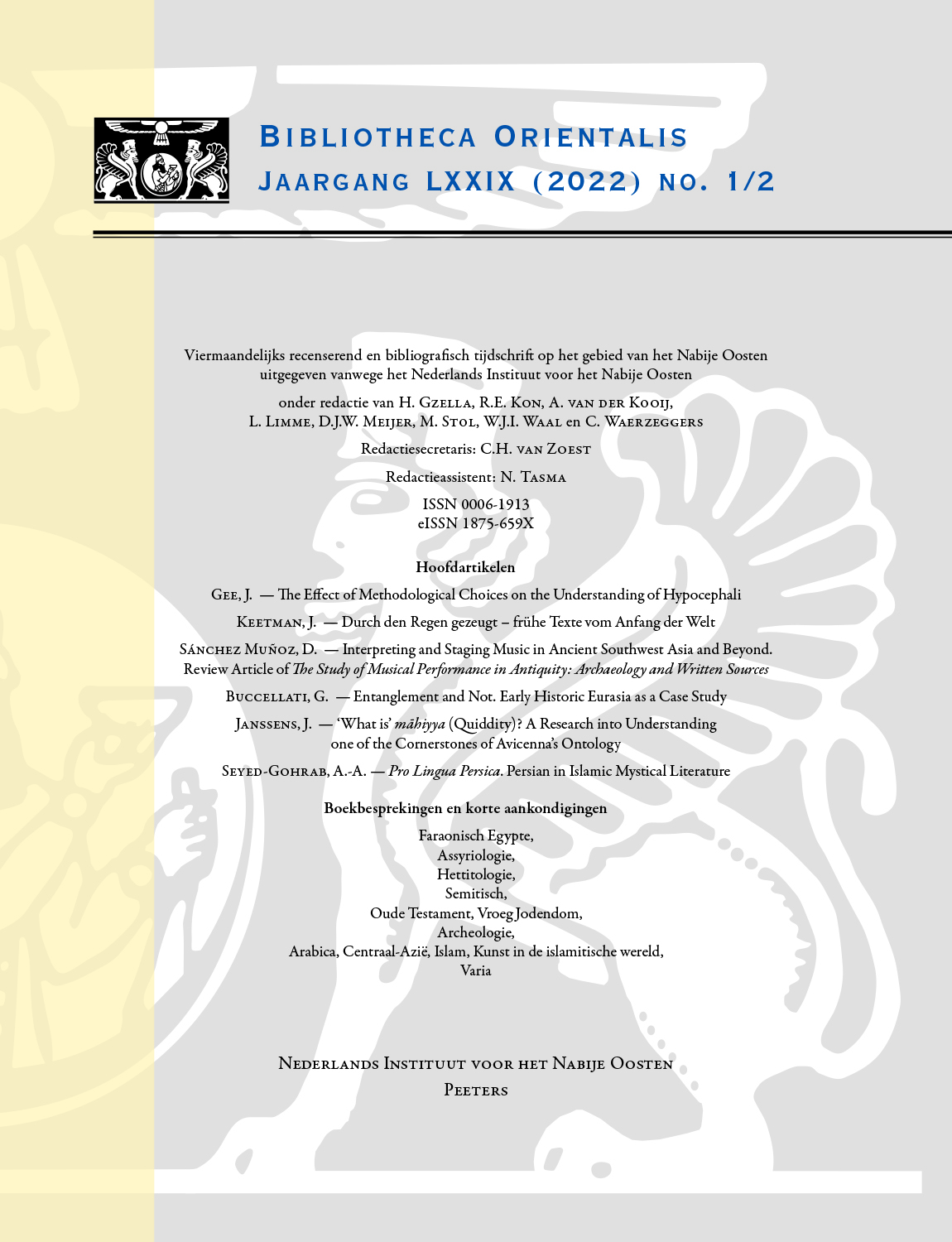 Document Details :

Title: Archeologie
Author(s):
Journal: Bibliotheca Orientalis
Volume: 54 Issue: 1-2 Date: januari - april 1997
Pages: 197-234
DOI: 10.2143/BIOR.54.1.2016134

Abstract :
CONTENSON, Henri de — Préhistoire de Ras Shamra: les sondages stratigraphiques de 1955 à 1976. Paris, Éditions Recherche sur les Civilisations, 1992, 2 t. (30 cm, ill.) Ras Shamra-Ougarit, I: texte, II: figures et planches / avec la collaboration de Jacques Blot e.a.

COLLON, Dominique — Ancient Near Eastern Art. British Museum Publications Ltd., London, 1995.

ALIZADEH, Abbas — Prehistoric Settlement Patterns and Cultures in Susiana, Southwestern Iran. Museum of Anthropology, University Museums Building, Ann Arbor, Michigan 48109, USA, 1992.

ROODENBERG, Jacob (ed.) — The Ilipinar Excavations I. Five Seasons of Fieldwork in NW Anatolia, 1987-91. (Publ. de l'Inst. hist.-archéologique néerlandais de Stamboul, 72); Ned. Inst. v.h. Nabije Oosten, Leiden 1995.

"FANTASTIC Years on Cyprus, The": the Swedish Cyprus Expedition and its Members / by Paul Aström, Einar Gjerstad, Robert S. Merrillees and Alfred Westholm. (Studies in Mediterranean Archaeology and Literature / Pocket-book; 79). Paul Aströms Förlag, 1994.

SCHALLIN, Anne-Louise — Islands under Influence: the Cyclades in the Late Bronze Age and the Nature of Mycenaean Presence. (Studies in Mediterranean Archaeology; 111). Paul Aströms Förlag, 1993.

BENNETT, Crystal-M. and Piotr BIENKOWSKI — Excavations at Tawilan in Southern Jordan. Oxford, Oxford University Press, 1996 (30 cm, 124 p. text, 221 p. ills) = British Academy Monographs in Archaeology No 8.

LEVY, Thomas E. (ed.) — The Archaeology of Society in the Holy Land. Leicester University Press, London, 1995.

FINKELSTEIN, Israel — Living on the Fringe: the Archaeology and History of the Negev, Sinai and Neighbouring Regions in the Bronze and Iron Ages. Sheffield Academic Press, 1995 (31 cm, XIII, 197 p., ill.) = Monographs in Mediterranean Archaeology, 6.

FRITZ, Volkmar — An Introduction to Biblical Archaeology. (Journal for the Study of the Old Testament, Supplement Series; 172). Sheffield Academic Press, 1994.


Download article