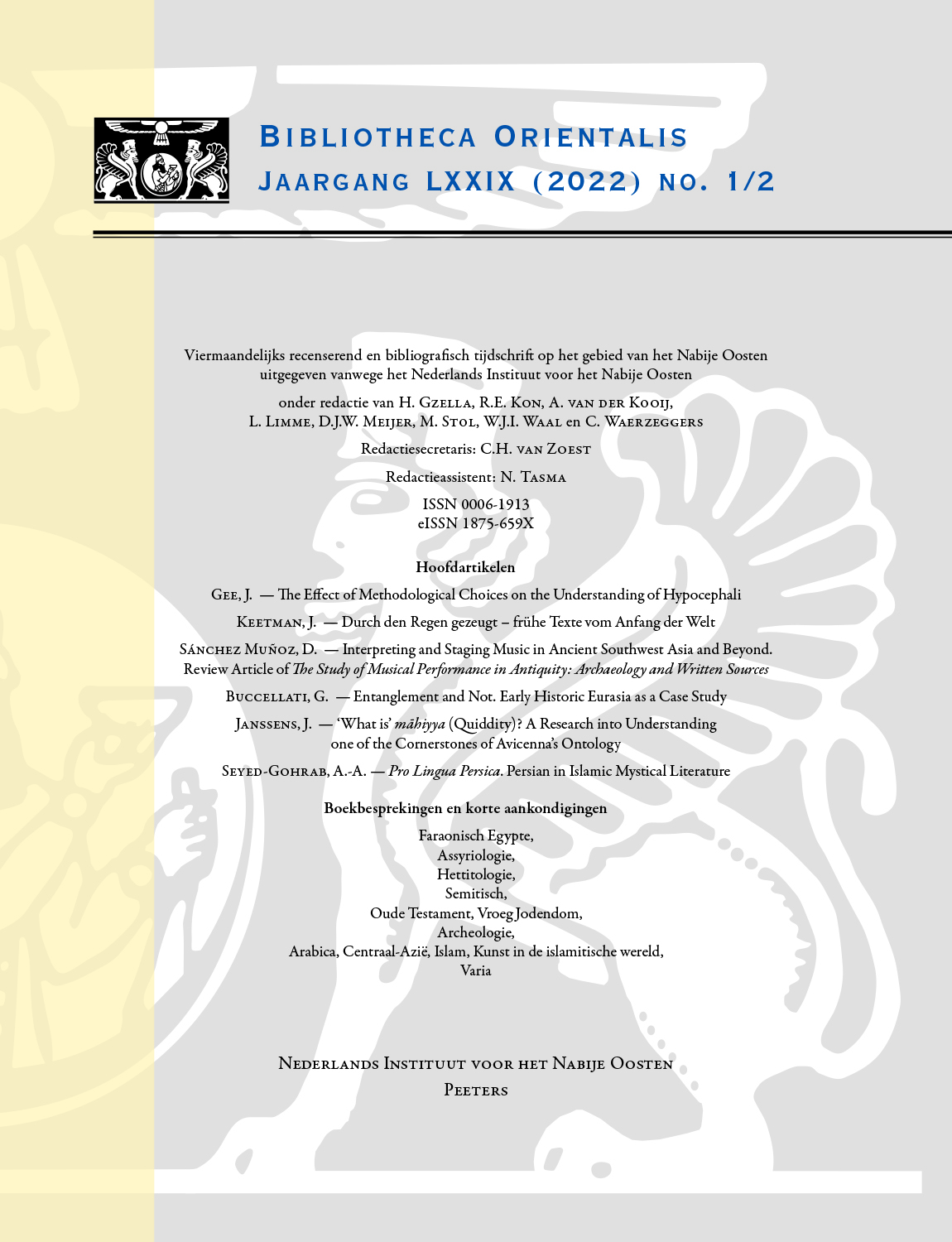 Document Details :

Title: Grieks-Romeins Egypte
Author(s):
Journal: Bibliotheca Orientalis
Volume: 54 Issue: 3-4 Date: mei - augustus 1997
Pages: 367-388
DOI: 10.2143/BIOR.54.3.2015908

Abstract :
PROCEEDINGS of the 20th International Congress of Papyrologists / Copenhagen, 23-29 August, 1992 / collected by Adam Bülow-Jacobsen. Museum Tusculanum Press — University of Copenhagen, Copenhagen, 1994.

PAPYRI BRUXELLENSES GRAECAEII — Le poème élégiaque hellénistique P. Brux. inv. E.89334 et P. Sorb. inv. 2254: Édition, commentaire et analyse stylistique par Marc Huys (Papyri Bruxellenses graecae II, Bruxelles 1991).

WORP, K.A. (ed.) — Greek Papyri from Kellis: I (P. Kell. G.) Nos. 1-90 / in collab. with J.E.G. Whitehorne and R.W. Daniel. (Dakhleh Oasis Project, Monograph, 3) / (Oxbow Monograph, 54). Oxbow Books, Oxford, 1995.

DUTTENHÖFER, Ruth (Hrsg.) — Ptolemaïsche Urkunden aus der Heidelberger Papyrus-Sammlung (P. Heid. VI). (Veröffentlichungen aus der Heidelberger Papyrus-Sammlung, N.F., 7). Carl Winter, Heidelberg, 1994.

Mc GING, Brian C. (ed.) — Greek Papyri from Dublin (P. Dub.). (Papyrologische Texte und Abhandlungen, 42). Dr. Rudolf Habelt GmbH, Bonn, 1995.

CUVIGNY, Hélène — Papyrus Graux, t. 2: (P. Graux 9 à 29). (École pratique des Hautes Études — 4e Section, Sciences Historiques et Philologiques, 3 / Hautes Études du monde Gréco-Romain, 19). Librairie Droz, Genève, 1995.

CORCORAN, Lorelei H. — Portrait Mummies from Roman Egypt (I-IV Centuries A.D.) with a Catalog of Portrait Mummies in Egyptian Museum / Drawings by William Schenck. (Studies in Ancient Oriental Civilization, 56). Oriental Institute, Chicago, 1995.


Download article