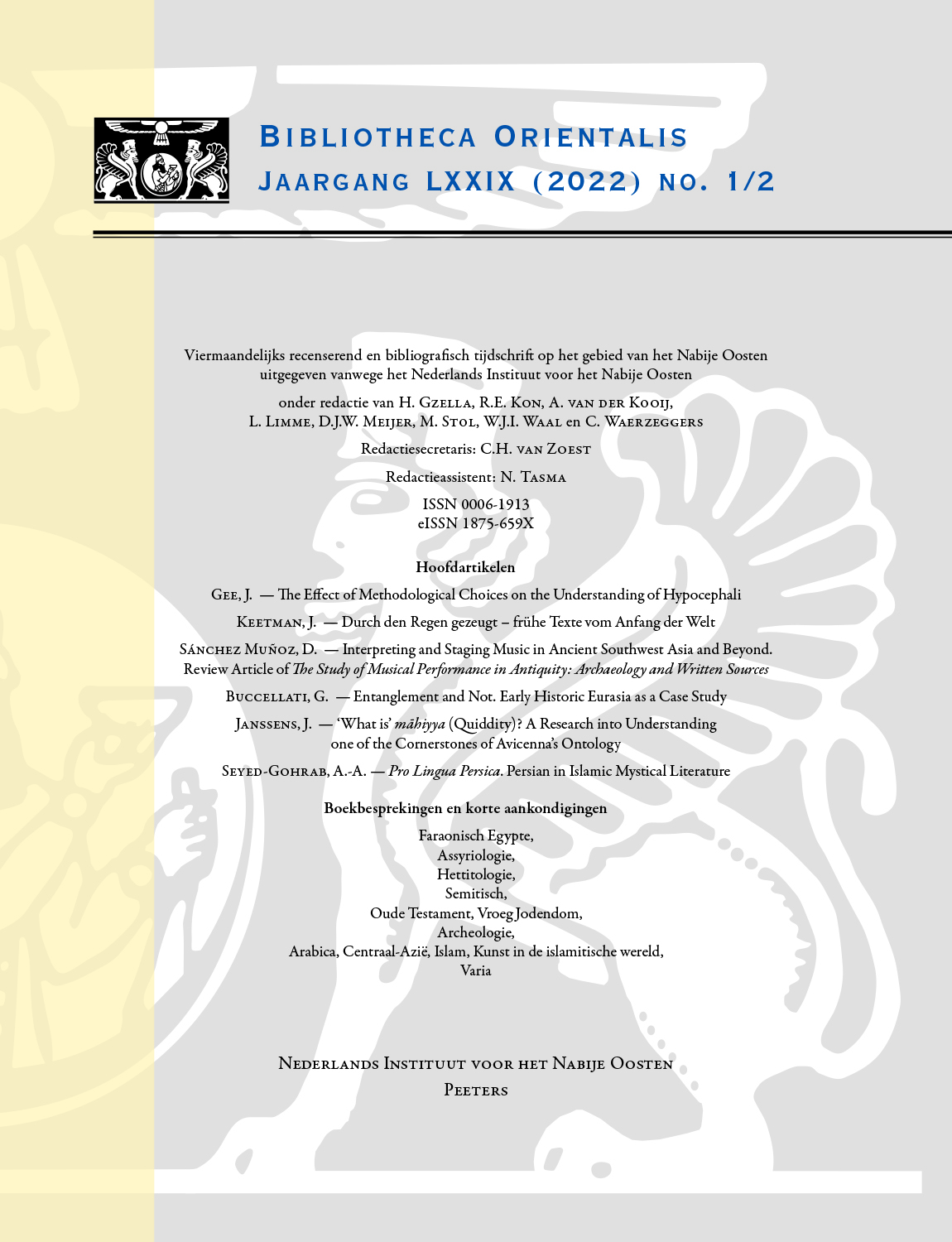 Document Details :

Title: Archeologie
Author(s):
Journal: Bibliotheca Orientalis
Volume: 54 Issue: 5-6 Date: september - december 1997
Pages: 757-785
DOI: 10.2143/BIOR.54.5.2015901

Abstract :
LINDAHL, Anders, and Ole STILBORG (eds.) — The Aim of Laboratory Analyses of Ceramics in Archaeology / April 7-9 1995 in Lund Sweden / In Honour of Birgitta Hulthén / English rev. by David Gaimster. (Konferenser, 34). Kungl. Vitterhets Historie och Antikvitets Akademien, Stockholm, 1995.

AKKERMANS, Peter M.M.G. — Villages in the Steppe: Later Neolithic Settlement and Subsistence in the Balikh Valley, Northern Syria. (Archaeological Series; 5). International Monographs in Prehistory, P.O. Box 1266, Ann Arbor, Michigan 48106-1266, 1994.

MÜLLER-KARPE, Michael — Metallgefässe im Iraq I (Von den Anfängen bis zur Akkad-Zeit) / mit naturwissenschaftlichen Beiträgen von Emmerich Paszthory und Ernst Pernicka. (Prähistorische Bronzefunde; Abt. 2., Bd. 14). Franz Steiner Verlag, 1993.

TERRES cuites orientales: la collection Klat. By Claude Doumet Serhal. XII + 150 pages. Many illustrations. London: Archetype Books, 1995.

TAKAHITO MIKASA, H.I.H. Prince — Essays on Ancient Anatolia and its Surrounding Civilizations. (Bulletin of the Middle Eastern Culture Center in Japan, 8). Verlag Otto Harrassowitz, Wiesbaden, 1995.

HØJLUND, Flemming, and H. Hellmuth ANDERSEN — Qala'at al-Bahrain. Vol. I: The Northern City Wall and the Islamic Fortress / with contributions by O. Callot, J. Cataliotti - Valdina, J. Eidem ... (et al.) / transl. (from the Danish) and rev. by Peter Crabb. (Jutland Archaeological Society Publications 30,1). (The Carlsberg Foundation's Gulf Project). Jutland Archaeological Society, Moesgaard, DK-8270 Højbjerg, 1994.

SITES et monuments disparus d'après les témoignages de voyageurs. Textes réunis par Rika Gyselen. Bures-sur-Yvette: Res Orientales VIII, 1996.

MOUNTJOY, P.A. — Mycenaean Athens. (Studies in Mediterranean Arch. and Literature; Pocket-Book 127). Paul Aströms Förlag, Partille, 1995.

TRADE and Production in Premonetary Greece: Aspects of Trade. Proceedings of the Third International Workshop, Athens 1993. Gillis, C., C. Risberg, B. Sjöberg editors, Studies in Mediterranean Archaeology and Literature Pocket-Book 134, Jonsered 1995: Paul Aströms Förlag.

PROHASZKA, Marianne — Reflections from the Dead: the Metal Finds from the Pantanello Necropolis at Metaponto. A comprehensive Study of Grave Goods from the 5th to the 3rd Centuries B.C. (Studies in Mediterranean Archaeology, 110). Paulm Aströms Förlag, Partille, 1995.

DIBBLE, Harold L. & Michel LENOIR (eds.) — The Middle Paleolithic Site of Combe-Capelle Bas (France) (University Museum Monograph, 91). University Museum, University of Pennsylvania, Philadelphia, 1995.


Download article