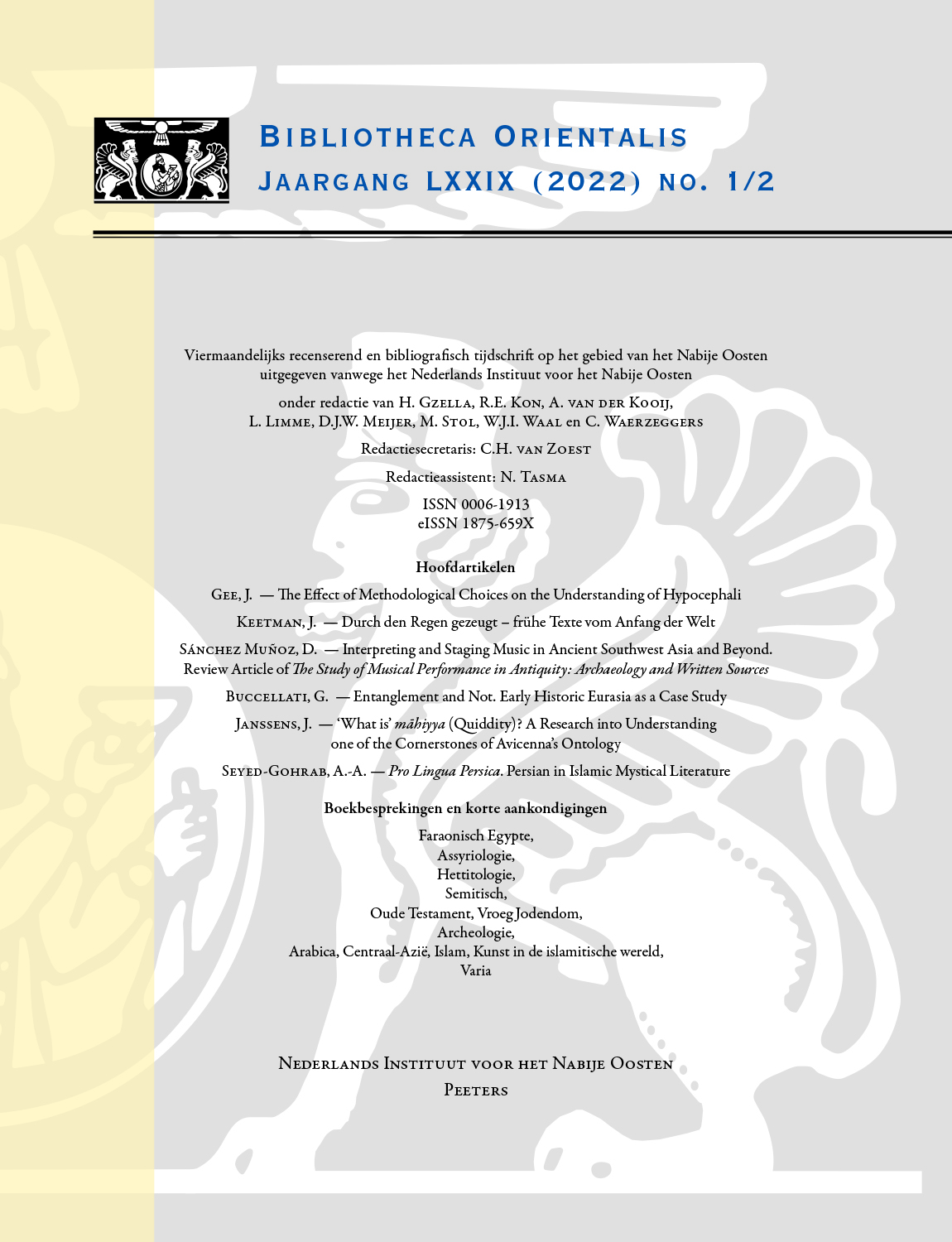 Document Details :

Title: Egypte
Author(s):
Journal: Bibliotheca Orientalis
Volume: 54 Issue: 5-6 Date: september - december 1997
Pages: 622-690
DOI: 10.2143/BIOR.54.5.2015894

Abstract :
BIETAK, Manfred (Hrsg.) — Zwischen den beiden Ewigkeiten. Festschrift Gertrud Thausing / hrsg. von Manfred Bietak ... [et al.] Eigenverlag des Institutes, Wien, 1994.

VERNUS, Pascal, & Jean YOYOTTE — Dictionnaire des Pharaons. Éditions Néosis, Paris, 1996.

SPENCER, Jeffrey (ed.) — Aspects of Early Egypt. British Museum Publications Ltd., London, 1996.

HELCK, Wolfgang — Historisch-biographische Texte der 2. Zwischenzeit und neue Texte der 18. Dynastie / zusammengestellt von Wolfgang Helck. — 2., überarb.
Aufl. — Wiesbaden: Harrassowitz, 1983.

PEDEN, A.J. — The reign of Ramesses IV. Warminster: Aris & Philipps, cop. 1994.

RÖMER, Malte — Gottes- und Priesterherrschaft in Ägypten am Ende des Neuen Reiches: ein religionsgeschichtliches Phänomen und seine sozialen Grundlagen. (Ägypten und Altes Testament, 21). Verlag Otto Harrassowitz, Wiesbaden, 1994.

GRIFFITHS, J. Gwyn — Triads and Trinity. University of Wales Press, Cathays Cardiff, 1996.

KOEMOTH, Pierre — Osiris et les arbres: contribution à l'étude des arbres sacrés de l'Égypte ancienne (Aegyptiaca Leodiensia, 3). Université de Liège, C.I.P.L., Liège, 1994.

JÜRGENS, Peter — Grundlinien einer Überlieferungsgeschichte der altägyptischen Sargtexte: Stemmata und Archetypen der Spruchgruppen 30-30 + 33-37, 75(-83), 162+164, 225+226 und 343+345. (Göttinger Orientforschungen: Reihe 4, Ägypten, 31). Verlag Otto Harrassowitz, Wiesbaden, 1995.

ABITZ, Friedrich — Pharao als Gott in den Unterweltsbüchern des neuen Reiches. (Orbis biblicus et orientalis, 146). Universitätsverlag, Fribourg, 1995.

SIMONET, Jean-Luc — Le Collège des Dieux Maîtres d'Autel: nature et histoire d'une figure tardive de la religion égyptienne. (Orientalia Monspeliensia, 7). Université Paul Valéry, Montpellier, 1994.

HERBIN, François René — Le livre de parcourir l'éternité / préf. de Jan Assmann. (Orientalia Lovaniensia Analecta, 58). Uitgeverij Peeters, Leuven, 1994.

COENEN, M., en J. QUAEGEBEUR — De Papyrus Denon in het Museum Meermanno-Westreenianum, Den Haag, of Het Boek van het Ademen van Isis / voorgest., vert. en toegel. door -- (Monografieën van het Museum van het Boek, 5). Uitgeverij Peeters, Leuven, 1995.

JAKOBIELSKI, Stefan et Janusz KARKOWSKI — Fifty Years of Polish Excavations in Egypt and the Near East / Acts of the Symposium at the Warsaw University 1986 / Centre Professeur Kasimierz Michałowski d'Archéologie méditerranéenne de l'Université de Varsovie et Centre d'Archéologie méditerranéenne de l'Academie polonaise des Sciences. Polish Academy of Sciences, Warsaw, 1992.

KELLY SIMPSON, William — Inscribed Material from the Pennsylvania-Yale Excavations at Abydos. (Publications of the Pennsylvania-Yale Expedition to Egypt, 6). Peabody Museum, New Haven, 1995.

ROTH, Ann Macy — A Cemetery of Palace Attendants including G 2084-2099, G 2230+2231, and G 2240. (Giza Mastabas, 6). Museum of Fine Arts, Boston, 1995.

FISCHER, Henry George — The Tomb of 'IP at El Saff. The Metropolitan Museum of Art, New York, 1996.

KEMP, Barry J. (ed.) — Amarna Reports VI / with contrib. by A. Bomann, A.D. Boyce, J.A. Charles ... [et al.]. (Occasional Publications, 10). Egypt Exploration Society, London, 1995.

GUBEL, E. (ed.) — Egypte onomwonden: Egyptische oudheden van het Museum Vleeshuis. Museum Vleeshuis, Antwerpen, 1995.

CLAGETT, Marshall — Ancient Egyptian science: a source book. Philadelphia, [PA]: American Philosophical Society, 1995.

JAMES, Frances W., and Patrick E. McGOVERN(eds.) — The late Bronze Egyptian Garrison at Beth Shan: a study of levels VII and VIII; with contributions by Anne G. Bonn ... [et al.]. — Philadelphia: The University Museum, University of Pennsylvania, 1993.

korte aankondiging

NAGUIB, Saphinaz-Amal — Miroirs du passé (Cahiers de la Société d'Égyptologie, 2) Genève, Société d'Égyptologie, 1993.


Download article