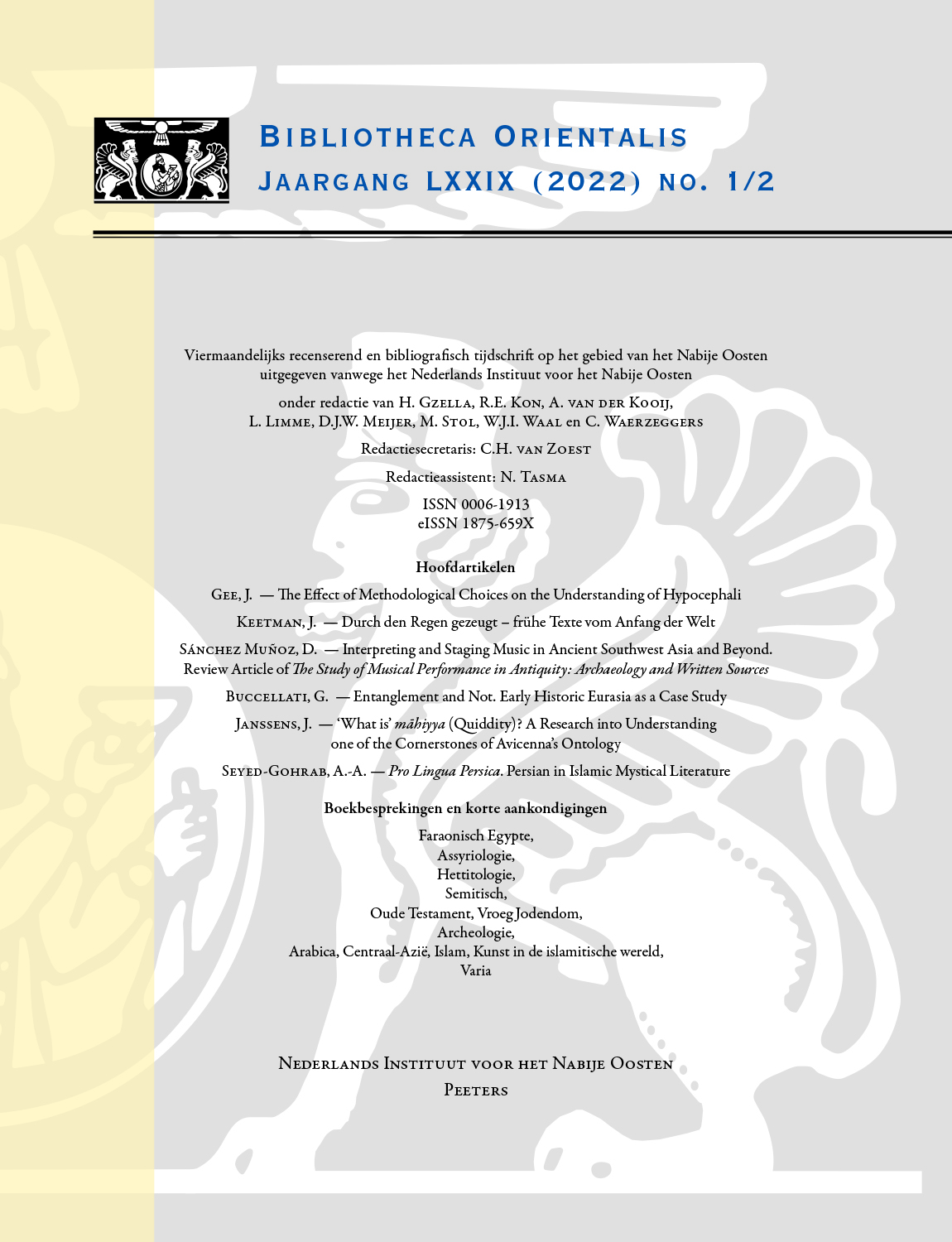 Document Details :

Title: Archeologie
Author(s):
Journal: Bibliotheca Orientalis
Volume: 55 Issue: 1-2 Date: januari - april 1998
Pages: 252-273
DOI: 10.2143/BIOR.55.1.2015856

Abstract :
LIVERANI, Mario, (ed.) — Neo-Assyrian Geography. (Quaderni di Geografia Storica). Università di Roma "La Sapienza", Roma.

MORANDI-BONACOSSI, Daniele — Tra il fiume e la steppa: insediamento e uso del territorio nella bassa valle del fiume Habur in epoca neo-assira. 2 T. (History of the Ancient Near East, Monographs 1). Sargon, s.r.l., Padova, 1996.

BENTON, J.N. — Excavations at Al Sufouh. A Third Millennium Site in the Emirate of Dubai. (ABIEL I). Editeurs Brepols, Bruxelles, 1996.

GITIN, Seymour (ed.) — Recent Excavations in Israel: A View to the West: Reports on Kabri, Nami, Miqne-Ekron, Dor, and Ashkelon / with contrib. by Michal Artzy, William G. Dever, Trude Dothan a.o. (Archaeological Institute of America, Coll. and Confer. Papers, 1). Kendall/Hunt Publishing Company, Dubuque, 1995.

HIRSCHFELD, Yizhar — The Palestinian Dwelling in the Roman-Byzantine Period. (Studium Biblicum Franciscanum, Collectio Minor, 34). Franciscan Printing Press, Jerusalem, 1995.

FRANKFORT, H. — The Art and Architecture of the Ancient Orient. Fifth edition with supplementary notes and additional bibliography and abbreviations by Michael Roaf and Donald Matthews. New Haven & London 1996.

korte aankondigingen:

AL-GAILANI-WERR, Lamia (ed.) — Old Babylonian Cylinder Seals from the Hamrin. London 1992. (Edubba 2, Nabu Publications).

DAS VORDERASIATISCHE MUSEUM. Staatliche Museen zu Berlin — Preussischer Kulturbesitz. Mainz 1992.

BULLES ET SCEAUX SASSANIDES de diverses collections. — Ph. Gignoux & R. Gyselen, with contributions by A. Bivar. Paris, 1987.

DAMASZENER MITTEILUNGEN. — Bd. 4, 1989 (ersch. 1990).

ARCHÉOLOGIE ET HISTOIRE DE LA SYRIE, II: La Syrie de l'époque achéménide à l'avènement de l'Islam. Edité par J.-M. Dentzer et W. Orthmann. Saarbrücken 1989.

MINUSCULE MONUMENTS OF ANCIENT ART. Catalogue of Near Eastern Stamp and Cylinder Seals collected by Virginia E. Balley. Exhibition Catalogue, the New Jersey Museum of Archaeology at Drew University, Madison, N.J. Madison, N.J. 1988.


Download article