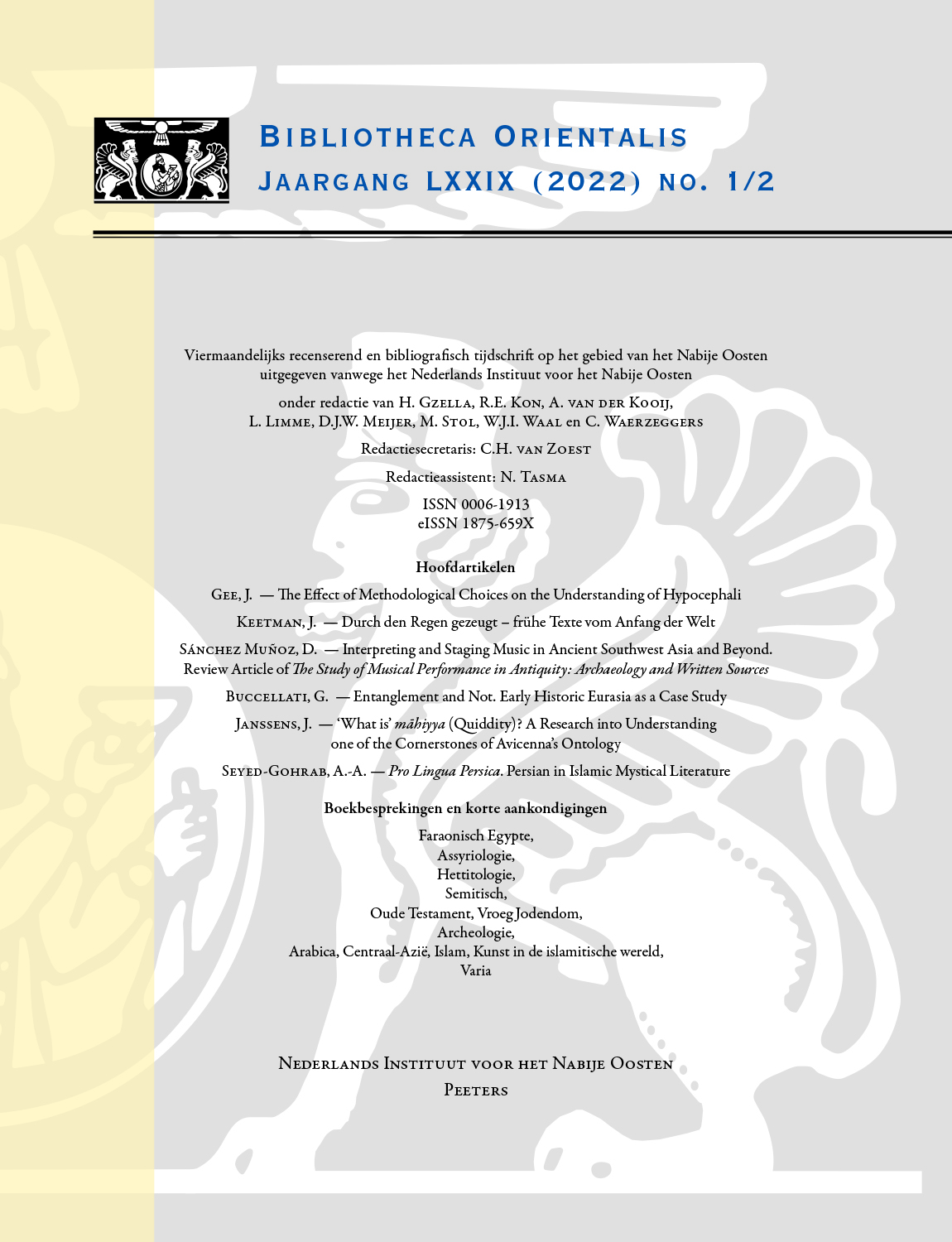 Document Details :

Title: Archeologie
Author(s):
Journal: Bibliotheca Orientalis
Volume: 59 Issue: 5-6 Date: september - december 2002
Pages: 619-647
DOI: 10.2143/BIOR.59.5.2015702

Abstract :
MOORE, A.M., G.C. HILLMAN, A.J. LEGGE — Village on the Euphrates. Oxford University Press, Oxford 2000.

STORDEUR, D. — El Kowm 2: une île dans le désert. La fin du Néolithique précéramique dans la steppe syrienne. CNRS Éditions, Paris 2000.

PFÄLZNER, P. — Haus und Haushalt. Wohnformen des Dritten Jahrtausands vor Christus in Nordmesopotamien. Damaszener Forschungen Band 9, Mainz, 2001.

ROODENBERG, J.J., and L.C. THISSEN (eds.) — The Ilipinar Excavations II. Pihans XCIII. Nederlands Instituut voor het Nabije Oosten, Leiden, 2001.

BEIT-ARIEH, I. (ed.) — Tel 'Ira; a Stronghold in the Biblical Negev. Sonia & Marca Nadler Institute of Archaeology, Tel Aviv 1999.

CARTER, Elizabeth — Excavations at Anshan (Tal-e Malyan): the Middle Elamite Period. (Malyan Excavation reports; V.2/University Museum Monograph; 82). Univ. Museum of Arch./Anthr. Philadelphia, 1996.

ZWINGENBERGER, U. — Tell El-Dag'a I. (Orbis Biblicus et Orientalis, 180). Universitätsverlag Freiburg, Fribourg, 2001.

SARTRE-FAURIAT, A. — Des Tombeaux et des Morts. Institut français d'Archéologie, Beyrouth, 2001.

YULE, P. — Die Gräberfelder in Samad al Shan (Sultanat Oman). 2 Bände. (Orient-Archäologie Band 4). Verlag Marie Leidorf, Rahden/Westf., 2001.


Download article