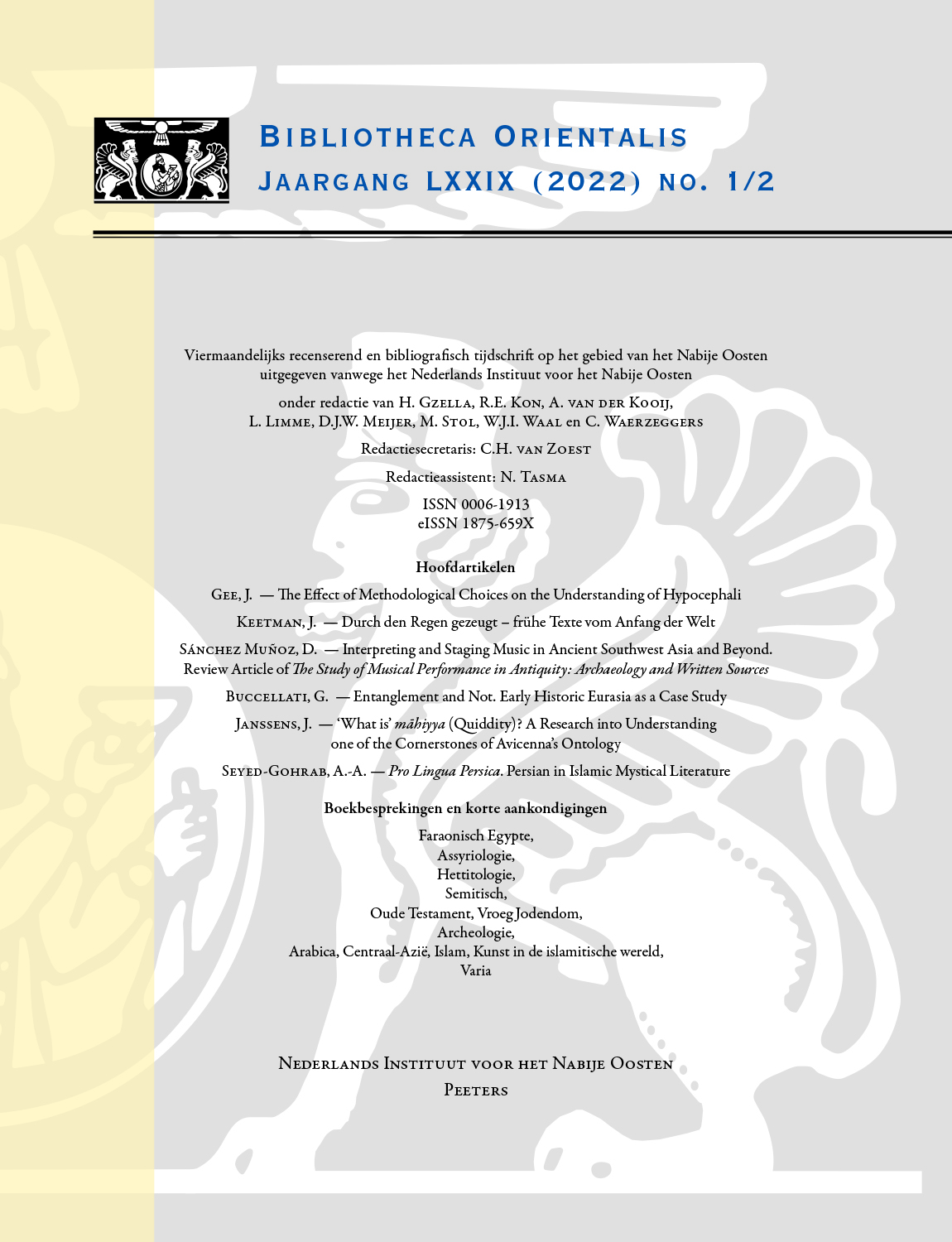 Document Details :

Title: Assyriologie
Author(s):
Journal: Bibliotheca Orientalis
Volume: 59 Issue: 1-2 Date: januari - april 2002
Pages: 98-117
DOI: 10.2143/BIOR.59.1.2015662

Abstract :
GEORGE, A.R. and I.L. FINKEL (eds.) — Wisdom, Gods and Literature. Studies in Assyriology in Honour of W.G. Lambert. Eisenbrauns, Winona Lake, 2000.

BAHRANI, Zainab — Women of Babylon. Gender and Representation in Mesopotamia. Routledge, London and New York, 2001.

KOSLOVA, N. — Ur III-Texte der St. Petersburger Eremitage. (SANTAG 6). Verlag Otto Harrassowitz, Wiesbaden, 2000.

EIDEM, Jesper and Jørgen LAESSØE — The Shemshara Archives 1. The Letters (Det Kongelige Danske Videnskabernes Selskab, Historisk-filosofiske Skrifter 23). C.A. Reitzel Boghandel og Forlag, Copenhagen, 2001.

PARPOLA, Simo, Karen RADNERand Robert M. WHITING — The Prosopography of the Neo-Assyrian Empire. The Neo-Assyrian Text Corpus Project, Helsinki. 1998.

korte aankondigingen:

ABUSCH, Tzvi, et alii (eds.) — Historiography in the Cuneiform World. Proceedings of the XLVe Rencontre Assyriologique Internationale, Part I (Harvard University).

HALLO, William W. and Irene J. WINTER, (eds.) — Seals and Seal Impressions. Proceedings of the XLVe Rencontre Assyriologique Internationale, Part II (Yale University). Both volumes CDL Press, Bethesda, 2001.

LÉVY, Ed. (ed.) — La codification des lois dans l'Antiquité. Actes du Colloque de Strasbourg 27-29 novembre 1997. Diffusion De Boccard, Paris, 2000.

THOMSEN, Marie-Louise — The Sumerian Language. An Introduction to its History and Grammatical Structure. (Mesopotamia, 10). Akademisk Forlag, Copenhagen, 1984.


Download article